Sales Have Ended
Registrations are closed
If you missed this event, please consider joining us for others in the series. You can view the lineup and register at: seec.schulich.yorku.ca/news/new-world-new-leadership-lessons/
Sales Have Ended
Registrations are closed
If you missed this event, please consider joining us for others in the series. You can view the lineup and register at: seec.schulich.yorku.ca/news/new-world-new-leadership-lessons/
A virtual fireside chat between SEEC Executive Director Alan Middleton and Larry Hutchinson, President and CEO of Toyota Canada.
About this event
Leadership Lessons from Toyota
Larry Hutchinson, President & CEO, Toyota Canada Inc.
In this instalment of our new online speaker series, Kevin will talk with SEEC Executive Director Alan Middleton online to share insights of leadership during the pandemic .
Larry will share his insights on leadership lessons in troubled times. He will discuss COVID-19 and its impact on Toyota's employees, customers, suppliers and stakeholders. During the fireside chat, Larry will also discuss the disruption caused to Toyota's manufacturing, distribution, vehicle sales, dealerships and customer service and steps taken by the company to adapt to the pandemic and the new normal.
We live in a new world. Each day we are faced with uncertainty and disruption. With these new business challenges come new opportunities for your organization to transform and succeed.
What lessons can we learn from this new reality? How can we be resilient and improve as an individual, team and organization during a crisis?
These and other important questions will be explored during a series of virtual fireside chats: Leadership Lessons in Troubled Times. These free, 30-minute online events will feature thought leaders and influencers from top organizations in the public, private and not-for-profit sectors.
The speakers will share their insights on leadership lessons learned and how they might apply to your business or organization:
What are the most important leadership traits for a company or organization during disruption?
How do you build up resilience in different functions across your team and organization?
What strategies are needed to communicate new ideas and shift mindsets (social distancing, telework, managing remote teams, innovation)?
How do you overcome resistance to change on an individual, team and organizational level?
How do we improve collaboration and stakeholder management during a crisis?
About Alan's Guest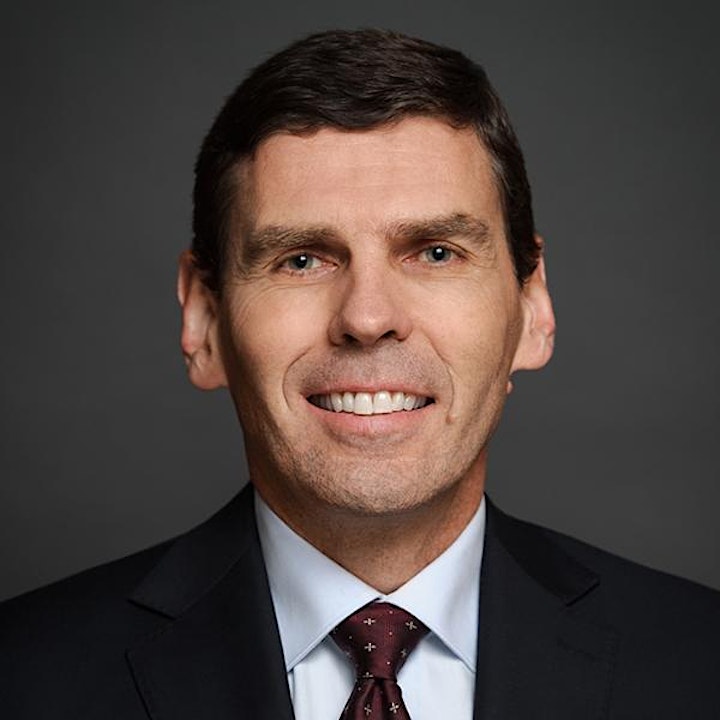 Larry Hutchinson is President and Chief Executive Officer at Toyota Canada Inc., responsible for all aspects of sales and marketing in Canada based out of the head office in Toronto, Ontario. Previous to this role, Larry was Vice President of Sales and Marketing, overseeing Dealer Standards and Representation, Lexus Division, Marketing & Customer Experience Management, Sales & Inventory Planning, Scion Division and Toyota Division teams.
Larry began his career at TCI as an analyst in 1986. He was involved in the launch of Lexus in Canada as a Lexus District Sales Manager and then moved to manage Vehicle Distribution Operations.
Previous roles also include National Manager of Toyota Sales and Marketing and National Manager of Lexus Division.
Larry then assumed the role of Director, overseeing the Product Planning, Customization and Dealer Process groups. He was responsible for a number of key areas, such as: Advanced Product Planning, Product Planning, Distribution, Sales Planning and Customization Development and Marketing. He also managed dealer-related sales processes, such as the Toyota Certified Used Vehicles program.
Larry holds a Bachelor of Business Administration degree from Wilfrid Laurier University
Organizer of Leadership Lessons from Toyota
We are a strategic business unit of the Schulich School of Business at York University in Toronto. Our role within the school is to provide lifelong learning for the development of professionals and executives long after their full-time education has been completed and they are in the work force.

Because few of us have the same job for life, we constantly have to re-invent ourselves, learn new skills and adapt to the changing marketplace and business environment. Today's professionals and executives must be able to quickly develop and fine-tune personal business skills to adapt and grow.