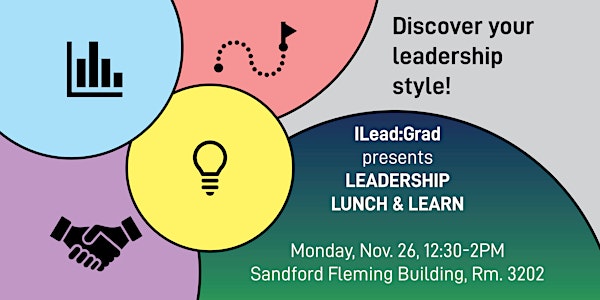 Leadership Lunch and Learn
When and where
Location
SF3202 Sandford Fleming Building 10 King's College Rd Toronto, Ontario M5S 3G4 Canada
Description
Ever feel like you are working with somebody who you just can't get on the same page with? Find some interactions on your team (or in your lab) to be particularly frustrating? Sometimes there are tendencies that we take for granted and they tend to create blind spots when interacting with others.
ILead:Grad is excited to be hosting a Leadership Lunch and Learn workshop on leadership styles. This workshop will be facilitated by Jordan Daniow, a leadership education specialist from Troost ILead. This is a great opportunity to learn about some key differences between personalities and how they influence team members' behavior and effectiveness. Join us in this exploratory workshop on leadership, where you can identify your style and learn how to make it work for you.
Tickets are limited!
By taking part in this event, you consent to be photographed. Speak to an ILead:Grad representative if you do not wish to be photographed.