Description
Leadership Presentation: "The
Winner Within
".

The Path to Personal and Professional Success.
Learn What the Top 2% Are Doing, and other 98% are not.
Hosted by: Randy Taylor
Requirements: Open to All Licensed Real Estate Agents
Seating: Limited!
Time: 11:00am - 12:30am (stay afterwards for our Mastermind Session w/ Rick Bartlett at 1pm!)
Cost: Free
---

Taking Your Practice And Life To The Next Level
Randy Taylor today is the most sought after speakers and trainers in the world of business professionals. In this seminar "The Winner Within" Randy will unveil both the structural and psychological changes necessary to create substantive and lasting growth both in your business and personal life. True success is achieving a level of growth in all areas of life.
The Winner Within contains the key strategies in creating the necessary behaviours to become a peak performer. The focus of this keynote is to not only inspire you to know your potential but to also provide actionable steps that will allow you to begin the process.

AGENTS WILL LEARN:
To understand and overcome the greatest barrier to success
Learn the keys of how you can become a top earner
The mechanism to stop stopping
The 867 Factor and the power of compound activity
Get off the roller coaster-key to producing superior results
The 5 essential keys to senior business management
"Learn and do - what the winners do"
Learn more about Randy Taylor and his presentation >>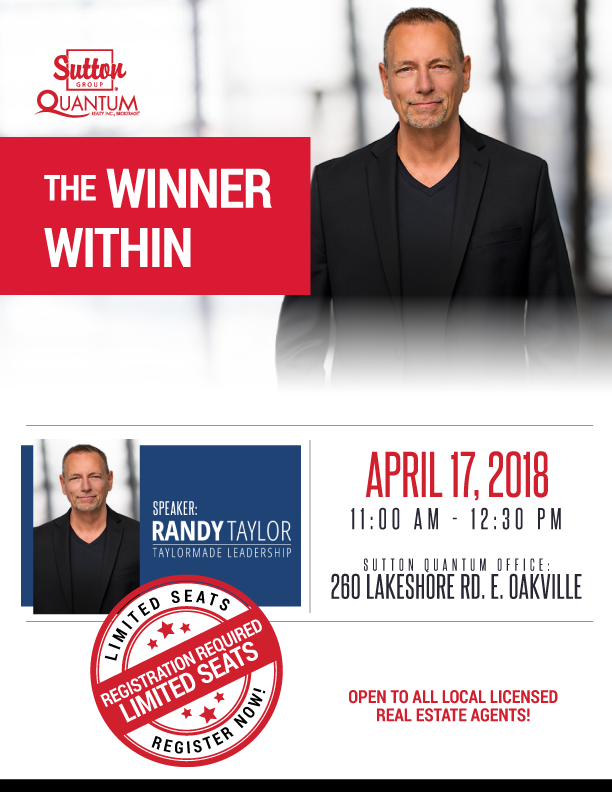 ---
ATTENDANCE & CANCELLATIONS:
To avoid disruptions for the host and those attending, please arrive 5-10min early. Cancellations must be made within 48hrs of event.