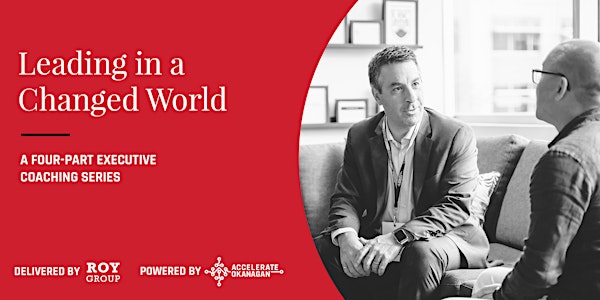 Leading in a Changed World | A Four Part Executive Coaching Series
This interactive four-part series will highlight concepts, approaches, and tools to help leaders rise up in the current world.
Refund Policy
Contact the organizer to request a refund.
Eventbrite's fee is nonrefundable.
About this event
Years from now, people across the country will share their internal, private, perhaps even secret experiences of this disorienting time.
They'll share the feeling of being in over their heads — and of letting go of control as social, economic, political and emotional landscapes spun and shifted in their personal and professional lives. Then the conversation will turn to the characters who stepped up. The people who were calm and focused and steady. The ones who were patient and understanding — and who created the space for courage, conviction and imagination to emerge. The leaders.
We invite you to RSVP below for this highly interactive, four-part series with Ian Chisholm, Partner of the Roy Group, highlighting a collection of concepts, approaches and tools to help leaders rise up in the current world. Learn new tools, techniques and strategies to help you be a better leader for your company and team.
This series is designed for executive leadership teams, CEOs, and founders.
Through attending this series, participants will:
Explore the uniqueness of our times, and what that means for those providing leadership
Discern the difference between simple, complicated, complex and chaotic systems, and the leadership approaches most effective within each
Experience ideas, approaches and tools that they can use with others
Engage in leadership 'drills' to practice skills
Chapter 1: Leading Through Complexity
Wed, Sept 30, 3-5pm PT
How can leaders be expected to lead when no one knows what the right answers are? How can we help leaders go from a mindset of solving to one of resolving? What is the role of Mentors when leaders have no choice but to fail fast and often in order to find a way forward?
Chapter 2: Practice and Resiliency
Wed, Oct 7, 3-5pm PT
What must our coaching be aware of in the months to come? What is the role that feedback must play for teams and leaders as they enter into new arenas? Why must we help leaders learn from their experience, as it emerges?
Chapter 3: Wise Counsel
Wed, Oct 14, 3-5pm PT
What gets in the way of leaders asking for help? How can we proactively entangle those we serve in networks of those who can help them? How can ritual provide a bridge from isolation to community?
Chapter 4: The Gods of Time
Wed, Oct 21, 3-5pm PT
What themes in what we face are timeless? What are new? As leaders ourselves, how will we conduct ourselves going forward?
Leading in a Changed World | A Four-Part Executive Coaching Series is brought to you by Accelerate Okanagan and facilitated by Roy Group.