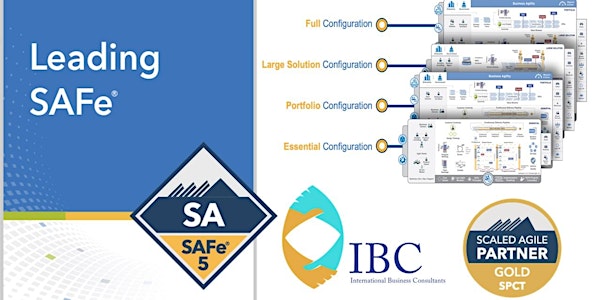 Leading SAFe 5.1 with SA Certification - Remote class
Leading SAFe 5.1 with SA Certification
About this event
Applying a Lean-Agile mindset with SAFe With SAFe 5 Agilist CertificationBased on version 5.1 of SAFe
Develop a skillset that's in demand worldwide—and empower your enterprise to succeed in a disruptive marketplace—when you become a SAFe 5.1 Agilist (SA). During this two-day course, you'll learn the principles and practices of the Scaled Agile Framework® (SAFe), how to execute and release value through Agile Release Trains, and what it means to lead a Lean-Agile transformation at enterprise scale.
You will gain an understanding of the Lean-Agile mindset and why it's so effective in today's adapt-or-die marketplace. You'll also get practical advice on supporting Agile teams and programs, empowering a Lean Portfolio, building a continuous delivery pipeline and DevOps culture, and coordinating large solutions.
Why IBC?
We are known for our hands-on training with tools, techniques, and real-time artifacts. We provide post-training support catered to the individual needs of the participants. Please connect with our lead trainer Wiselin Mathuram (LinkedIn) for any questions. Thanks
Class details:
We will send the Zoom Meeting invite to every participant 2 days before the class.
On Request, We can provide Invoices for company reimbursements.
Once the class is over you can take the exam online and you will also have access to full-length practice tests in the portal.
For more information, Cancellation, and Refund
Email us at : support@ibconsultants.net
Call/WhatsApp: 408-601-0422 (USA)
IBC website: https://ibconsultants.net