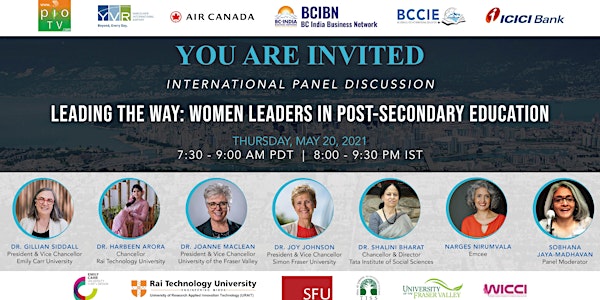 Leading the Way: Women Leaders in Post-secondary Education
You are invited to an international panel discussion being hosted by BC-India Business Network and partners.
About this event
Join us on Thursday, May 20, 2021 at 7:30 – 9:00 AM PDT | 8:00 – 9:30 PM IST.
The international panel discussion will focus on the main theme of women leaders leading the way in the post-secondary education sector during a global pandemic, the challenges and opportunities encountered and lessons learned. The panel discussion will be followed by an interactive Q&A session. Questions can be forwarded in advance to: sjayamad@sfu.ca.
REGISTER by Tuesday, May 18
VIRTUAL EVENT
Zoom Webinar - the link to participate will be emailed to registered guests the day prior from Eventbrite.
ENQUIRIES
Sobhana Jaya-Madhavan | sjayamad@sfu.ca
Please forward your questions for panelists by May 18 to: sjayamad@sfu.ca
FEATURED PANELISTS
Dr. Gillian Siddall, President & Vice-Chancellor, Emily Carr University, Canada
Dr. Siddall has served as President and Vice-Chancellor at Emily Carr University of Art + Design since 2018. Prior to taking on this role, she served for three years as Vice-President, Academic and Provost at OCAD University, and for six years as Dean of the Faculty of Social Sciences and Humanities at Lakehead University. Her research area is Canadian literature, with a focus on musical improvisation, both within and outside literary contexts. Publications include Negotiated Moments: Improvisation, Sound, and Subjectivity (co-edited with Dr. Ellen Waterman, Duke University Press 2016); " 'I want to live in that music': Blues, Bessie Smith and Improvised Identities in Ann-Marie MacDonald's Fall on Your Knees" Critical Studies in Improvisation (2005); and "Nice Work if You Can Get It: Women in Jazz" (co-authored with Ajay Heble), Landing on the Wrong Note: Jazz, Dissonance and Critical Practice (Routledge 2000).
Siddall is also a jazz vocalist, choral singer, and co-founder of the Guelph Jazz Festival. She holds an Honours BA and MA in English from the University of Guelph and a PhD in English from the University of Western Ontario.
Dr. Harbeen Arora, Chancellor, Rai University, India
Dr. Arora is the Chancellor of Rai University in Ahmedabad, Rai Technology University in Bangalore and Jharkhand Rai University in Ranchi, India. These universities focus on educating youth from underserved sections of society especially in fields of farming and agriculture toward empowering local livelihoods and capacity building. Dr. Arora is also the Founder and Global Chairperson of ALL Ladies League (ALL) and Women Economic Forum (WEF), Founder and President of Women's Indian Chamber of Commerce and Industry (WICCI), Founder of BIOAYURVEDA and SHEconomy. With a powerful global network of 250,000 women and supporters across 120 countries, and growing toward Mission Million, these platforms and ecosystems are among the largest global communities of women entrepreneurs and leaders across all walks of life.
A business leader with great affinity for philanthropy, culture and peace, Dr. Arora has vast experience with promoting: ancient heritage of traditional handlooms and crafts; tourism, arts and culture; international trade and ties, business collaborations and partnerships; conflict resolution and peace building. Dr. Arora is the author of three books on the subjects of creative living, human values and higher education. She has been felicitated for Excellence in Women Empowerment by Indo-American Chamber of Commerce, and received the National Award for Social Entrepreneurship and Education by Gujarat Chamber of Commerce and Industry in India. Dr. Arora was among the Top 100 Most Reputable People on Earth (Reputation Poll 2019).
Dr. Joanne MacLean, President & Vice-Chancellor, University of Fraser Valley, Canada
Dr. MacLean was appointed President and Vice-Chancellor of the University of the Fraser Valley on May 1, 2018. Dr. MacLean is dedicated to leading UFV in its mission of engaging learners, transforming lives, and building community and ensuring UFV's endeavours are guided by its values, strategic directions, and commitment to equity, diversity, and inclusion. As an institution situated on S'olh Temexw, the traditional territory of the Stó:lō people, UFV acknowledges the contributions that Aboriginal people have made – and continue to make – to our community. Dr. MacLean is committed to moving UFV forward in reconciliation and to supporting Indigenous learners and honouring Indigenous ways of knowing.
Prior to joining UFV in 2012 as Dean of the Faculty of Health Sciences, Dr. MacLean held appointments at the University of Windsor and Brock University. She received a PhD from Ohio State University where she studied human resource management in sport and recreation, and administration in higher education. She holds a bachelor and a master degree from the University of New Brunswick in her hometown of Fredericton. Dr. MacLean is the author of two books, and over 70 peer-reviewed publications and presentations. She was named a Research Fellow of the North American Society for Sport Management in 2009.
Dr. Joy Johnson, President & Vice-Chancellor, Simon Fraser University, Canada
Dr. Johnson is president and vice-chancellor of Simon Fraser University, and professor in its Faculty of Health Sciences. As president, Joy is committed to enhancing student learning experiences, working towards Indigenous reconciliation, and advancing equity, diversity and inclusion across the university. Prior to her appointment as president, Joy served as SFU's vice-president, research and international from 2014 to 2020 where she oversaw the evolution of cutting-edge research, innovation, and international engagement across eight faculties. Under her leadership, SFU's research income grew from $103 million in 2014 to $161 million in 2020 – the fastest growth of any Canadian university. Other major accomplishments include the launch of a groundbreaking big data initiative, hosting one of Canada's largest supercomputers and establishing a university-wide innovation strategy.
Prior to SFU, Joy had a distinguished career in academics and research. She completed her PhD in nursing at the University of Alberta, and joined the University of British Columbia as a professor in the School of Nursing. Her commitment to research led her to the role of scientific director with the Canadian Institutes of Health Research Institute of Gender and Health, where she is credited for shaping the Canadian research landscape to ensure gender is considered in health research. Joy is an elected Fellow of the Canadian Academy of Health Sciences, a Fellow of the Royal Society of Canada, and has co-authored more than 180 peer-reviewed articles.
Dr. Shalini Bharat, Vice-Chancellor, Tata Institute of Social Sciences, Mumbai, India
Dr. Bharat is Vice-Chancellor of the Tata Institute of Social Sciences, Mumbai. She is well known for her work on gender, equity and access issues with special reference to reproductive and women's health; social determinants of HIV and TB, including stigma and discrimination; health vulnerabilities in the context of migration; and demographic transition among minority communities. Besides administration, teaching and research, Prof. Bharat leads a Global Fund sub-grant titled 'Saksham' for developing and implementing a psycho-social counseling and social linkages program for drug resistant TB patients in four Indian states; and a community engagement initiative -Jan Urja- for TB prevention supported by CSR of Tata Power.
Prof. Bharat serves as member on the ICMR Task Force on Operations Research for Covid-19, ICMR's National Research Ethics Committee, and the Council of Association of Commonwealth Universities, UK. She has published widely and her most recent publications include a 4-Volume Series "Parsis of India: Continuing at the Crossroads" from Sage and a book "Health and Wellbeing of India's Young People" from Springer. Prof. Bharat has a doctorate degree in Psychology from Allahabad University, India.
EMCEE
Narges Nirumvala, Founder & CEO, ExecutiveSpeak Coaching International, Canada
Narges Nirumvala is an award-winning serial entrepreneur, world-renowned leadership communication expert, keynote speaker and bestselling author of the book "Capture the Spotlight". Narges is a passionate champion for women and girls. She serves on the Board of Directors of the BC India Business Network and TiE Vancouver. Narges has numerous awards and accolades, most recently she won the 2018 Shakti Award for Business and Entrepreneurship and was nominated for RBC Women of Influence 2020 Canadian Women Entrepreneur Awards for the fifth time in a row.
MODERATOR
Sobhana Jaya-Madhavan, Associate Vice President (External Relations), Simon Fraser University, Canada
A graduate of Tata Institute of Social Sciences (TISS, India), Sobhana immigrated to Canada in 1995 and joined the Government of British Columbia. After being a public servant for almost two decades and representing BC Government locally and internationally, Sobhana moved back to India and worked at NewGen KnowledgeWorks as Head HR/Associate Vice President – Organizational Excellence, prior to joining SFU in 2017. As Associate Vice President – External Relations, Sobhana engages with all levels of government, internal/external partners and diverse communities to work on shared goals. Sobhana is very involved in advancing SFU priorities including reconciliation and equity, diversity and inclusion.
In 2019, Sobhana was awarded the Woman of the Decade Award (in Education) by the Women Economic Forum (WEF). Sobhana mentors and volunteers extensively, sits on several boards and continues to stay connected to India through her work with TISS's National University Students Skill Development (NUSSD) program and other pro bono work. Sobhana is passionate about peace, philosophy, disruptive technologies, music and travel.
PIO TV - GLOBAL MEDIA PARTNER
PIO TV (www.pioTV.com) is a digital, multimedia infotainment company that produces content aimed at the Diaspora and global audience to apprise them of the daily changes in India. PIO TV captures every walk of life, sector of growth and development, issues and concerns in India. PIO TV also captures events in the Indian Diaspora domain and globally connected to India in some way.
PIO TV programming is distributed via an affiliate channel across Africa via satellite StarTimes - Direct to Home (DTH): South Africa, Botswana, Swaziland, Lesotho, Malawi, Mozambique, Zambia, Tanzania, Kenya, Uganda, Rwanda, Brundi, DRC, Congo Republic, Nigeria, Ivory Coast, Madagascar, Ghana, Guinea; Digital Terrestrial Television (DTT): Mozambique, Zambia, Tanzania, Kenya, Uganda, Rwanda, Brundi, DRC, Nigeria, Madagascar, Guinea. Similarly, PIO TV programming is distributed by TV, cable, satellite and online affiliates in North America, Australia, New Zealand, and soon in Latin America and the Caribbean as well as parts of Europe. Overall, PIO TV reach is in millions and growing.

Munish Gupta - Chairman & Managing Editor, PIO TV (www.pioTV.com)