Description
In recognition of National Family Literacy Day the Centre for Family Literacy hosts the

Leading with Literacy Breakfast
Celebrating the work of the Centre and the winners of the annual Lois Hole Memorial Literacy Awards established to honour individuals, organizations and businesses that have demonstrated a commitment to literacy in Alberta.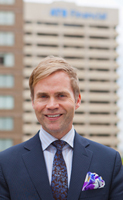 Keynote Speaker: Todd Hirsch, Senior Economist, ATB Financial
Todd holds a BA Honours in Economics from the University of Alberta and an MA in Economics from the University of Calgary. For over 20 years he's worked as an economist at several different companies including Canadian Pacific Railway, the Canada West Foundation and the Bank of Canada. For almost a decade Todd taught economis at the U of C.
Todd regularly provides economic commentary for CBC, CTV, The Glove and Mail and other local and national news outlets. In 2011, he was recognized as one of Alberta's 50 Most Influential People by Alberta Venture magazine.
Organizer of Leading with Literacy Breakfast
Today, 45% adult Albertans struggle with literacy. The Centre for Family Literacy provides a wide range of adult and family literacy programs in Edmonton, as well as training, resources, information and awareness across the province and the country.  
We provide a continuum of services that enable individuals and families to participate at any stage of literacy development. Annually over 15,000 Alberta adults and children access our programs, training and services.