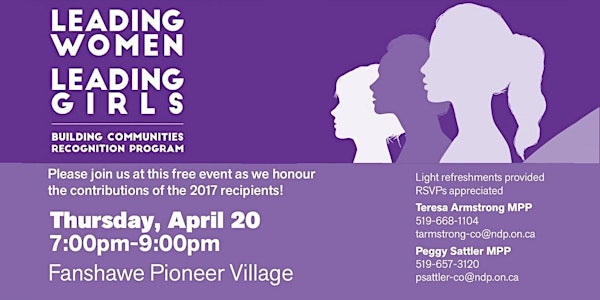 Leading Women Leading Girls Building Communities
By MPP Teresa Armstrong & MPP Peggy Sattler
Date and time
Thu, Apr 20, 2017 7:00 PM - 9:00 PM EDT
Location
Fanshawe Pioneer Village 1424 Clarke Rd. E. London, ON N5X 4A1 Canada
Description
Please join us for our annual Leading Women Leading Girls Building Communities Awards reception as we honour the many contributions made by women and girls to our local community.
As 2017 is the 100 year anniversary since women in Ontario secured the right to vote, we will also be presenting a short play to mark women's suffrage in Ontario.
This is a free event and all are welcome to attend. Light refreshments will be served and there will be musical performances by local youth.
Fanshawe Pioneer Village is located inside Fanshawe Conservation Area in London, Ontario.
Enter at 1424 Clarke Road and follow the Orange Directional signs. Free parking is available on site.
If you require assistance getting to the event please contact your local MPP Office.
Teresa Armstrong & Peggy Sattler with the 2016 Leading Women Leading Girls Building Communities recipients
About the organizer
About Teresa:
Teresa Armstrong is the Member of Provincial Parliament for London-Fanshawe. She was elected on October 6th, 2011.
Teresa has been actively involved in her community for many years. She was instrumental in the inception of the Argyle Resource Centre and served as one of its first chairpersons. She is also a past president of East London Lioness Club, a past board member of LUSO Centre, a volunteer with East London Optimist Club, a member of Argyle Community Association and she is a previous co-chair of the Argyle Indoor Pool Committee.
Politics is not a new venture for Teresa. She has worked alongside and supported her husband Bill Armstrong, City Councillor, Ward 2 for many years. Throughout the years Teresa has worked with Bill volunteering and organizing community events such as senior's Christmas parties, Canada Day events and community clean ups at Lord Nelson and Forestview Parks.
Teresa's experience as an insurance broker, working with the public and her countless hours of volunteering have allowed her to develop the leadership skills necessary to effectively represent the people of London Fanshawe. At a time when Ontario needs change, Teresa offers a positive change and a focus on putting people first.
Teresa lives with her husband Bill and their two children.
TeresaArmstrong.ca | facebook.com/TArmstrongNDP/ | twitter.com/TArmstrongNDP
About Peggy:

Peggy Sattler is the NDP Member of Provincial Parliament for London West. She was first elected in a by-election August 1, 2013 and was re-elected in June, 2014. Peggy is the Ontario NDP critic for Women's Issues, Education, and Advanced Education and Skills Development.  
Prior to her election, Peggy served as a Trustee on the Thames Valley District School Board for 13 years, including two terms as board chair. She also served on the executive of the Ontario Public School Boards' Association.
In her professional career as Director of Policy at London-based firm Academica Group, Peggy led provincial and national research studies with a focus on post-secondary education. She worked with many community agencies on workforce development and local issues, and played a key role in the establishment of the Ability First coalition, an award-winning initiative to engage London employers in hiring people with disabilities.
She holds a Masters of Education from Western University, and is a graduate of McMaster University and Fanshawe College.  She is married with two children.  
PeggySattler.ca | facebook.com/PeggySattlerONDP/ | twitter.com/PeggySattlerNDP