Sales Have Ended
Ticket sales have ended
Thank you or registering. See you at the event!
Sales Have Ended
Ticket sales have ended
Thank you or registering. See you at the event!
Description
Learn How 2 Get Hired! Workshop & Pitch Night

Are you a Halton student between 15 and 20 years of age looking for a job?
Looking to learn in the ins and outs of landing a job from recruiters, employers and students who were in your shoes?
We've got a great 2-night program to help you learn how to get hired!


STUDENTS
What You'll Get Out Of 2 Packed Nights
LEARN what job opportunities are available in the tech sector (hint: definitely not all coding jobs)

UNDERSTAND how companies review resumes – and what makes them pay attention

GET clear guidance on how to network – both in person and on social media

LEARN how to create your unique pitch and practice delivering it to Halton tech companies in a comfortable environment

GROW your network with local tech companies that hire and meet peers that you could work with on interesting projects

ASK the questions you would like to know answers to in our new exclusive student and interview panel
How It Works - 5 Simple Steps
REGISTER for the event - Tell us why you want to attend!

SET UP A LINKEDIN ACCOUNT – instructions here >

ATTEND THE WORKSHOP NIGHT -- May 16, 2018 | 7:00 pm to 9:30 pm
Our speakers will cover the topics above in individual and panel presentations You'll also get the chance to ask questions during the panel and go up to the speakers at the end to ask any other questions you have.

CREATE YOUR PITCH - between May 16 and May 23

ATTEND THE PITCH YOURSELF NIGHT -- May 23, 2018 | 7:00 pm to 9:30 pm
All workshop participants will pitch themselves to Halton companies in a comfortable environment. You may get a summer placement at one of the companies if your skills match their needs. You'll also get feedback on what was good and if there are any areas for improvement.

Speakers - New!
"The Hiring Committee":
What do you get when a Software Executive, Marketing Expert and Student Recruitment expert end up in the same room? Lot's of interesting answers!
Our panelists:
Pieter Venter is the Vice President of Software Development at Geotab and has been building large scale software solutions for 15 years.

Nancy Mancini has 25+ years experience as a marketing communications expert in both small and large organizations.

Donald Graham is the President of Brainstorm Strategy group which focuses on helping employers and educational institution attract and engage the next generation.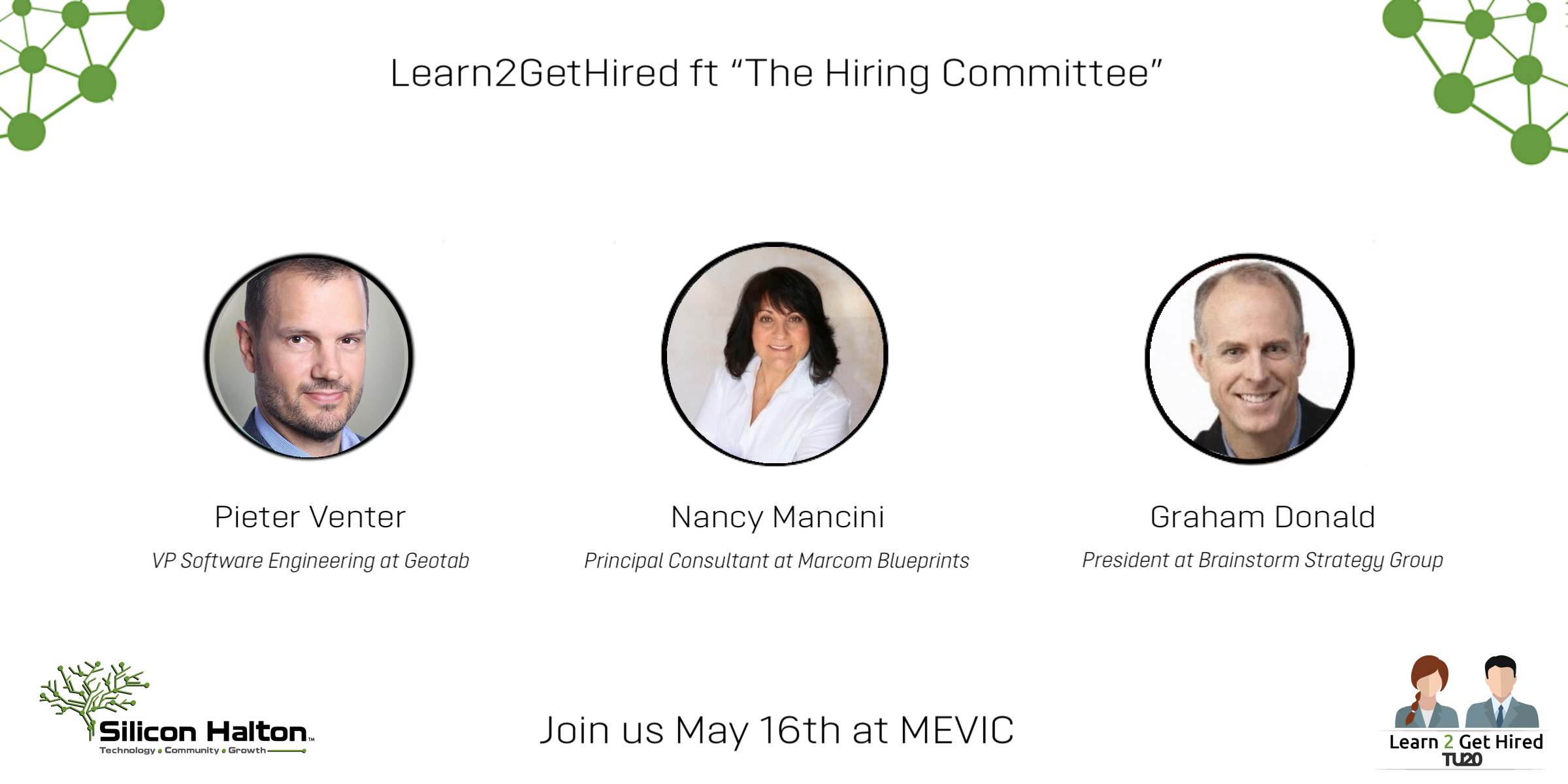 Student Panel:

How do Microsoft, RBC and Hundsun Technologies compare with local companies?
We're excited to announce our first panel for Learn2GetHired, Student Stories.
Our panelists have had some awesome internships in the past and are excited to share their experience! They'll answer your questions on how to find, interview and successfully navigate the internship scene.
Our panelists:
Mohammed Eseifan 3rd year Computer Engineering Student at Queens working this Summer at Microsoft!
Jean Yang 2nd year finance student from U of T working at Hundsun Technologies!
Denys Linkov 3rd year Computer Science Student at U of T working at RBC this summer!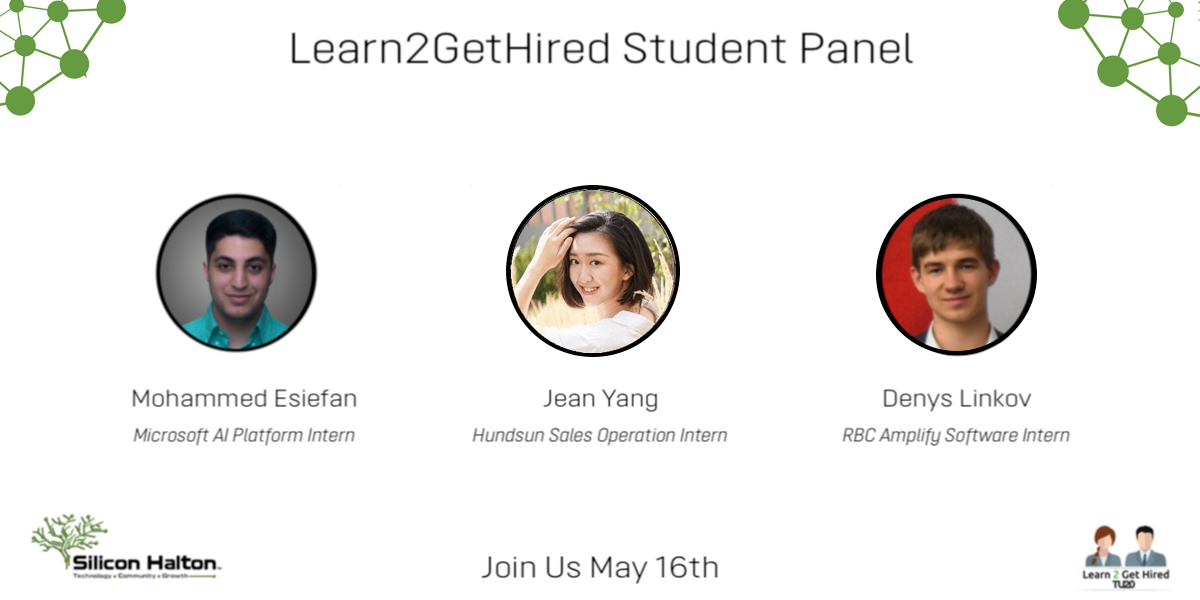 EMPLOYERS:
Are you looking for summer students for your business?
Join Us for Learn2GetHired, a unique event that offers you an opportunity to meet, interview, and hire
for some of the brightest TU20 students in Halton who are looking to help your business. Our Tech Under Twenty students can help in many business / technical areas. They can:
Provide Development Skills: Build out mobile apps – IOS, Android; Develop web and cloud based applications; Work on IoT Projects – Raspberry Pi; Conduct QA and testing; Do data clean up and entry


Provide Visual Design Skills: Design logos; Create graphics and advertisements; Take pictures and shoot video; Do video editing

Provide Marketing Skills: Help with website content management – WordPress / Joomla / Drupal or other CMS's; Help with email marketing – MailChimp / Constant Contact or other email systems; Write and post on all social media networks; Write product descriptions / organize data for e-commerce stores
and many other skills that your business may need. If you don't hire any students, you'll get your admission fee refunded!
---
Student Experiences From the Past
Through the TU20 pitching event, I landed a summer internship at VL to build their iOS application. TU20 connected me to the tech community and has helped bring me to where I am today – Denys
Back in the summer of 2015, I received a summer internship opportunity at Media Rez Studio through the pitching event hosted by TU20. It was the starting point of my career and was an unforgettable summer filled with awesome experiences. I learned, networked, and grew through the development of TU20. I am a part of TU20 and TU20 is also a part of me. – Jean

Read how TU20 helped students find internships last summer, 6 stories from students just like you!
---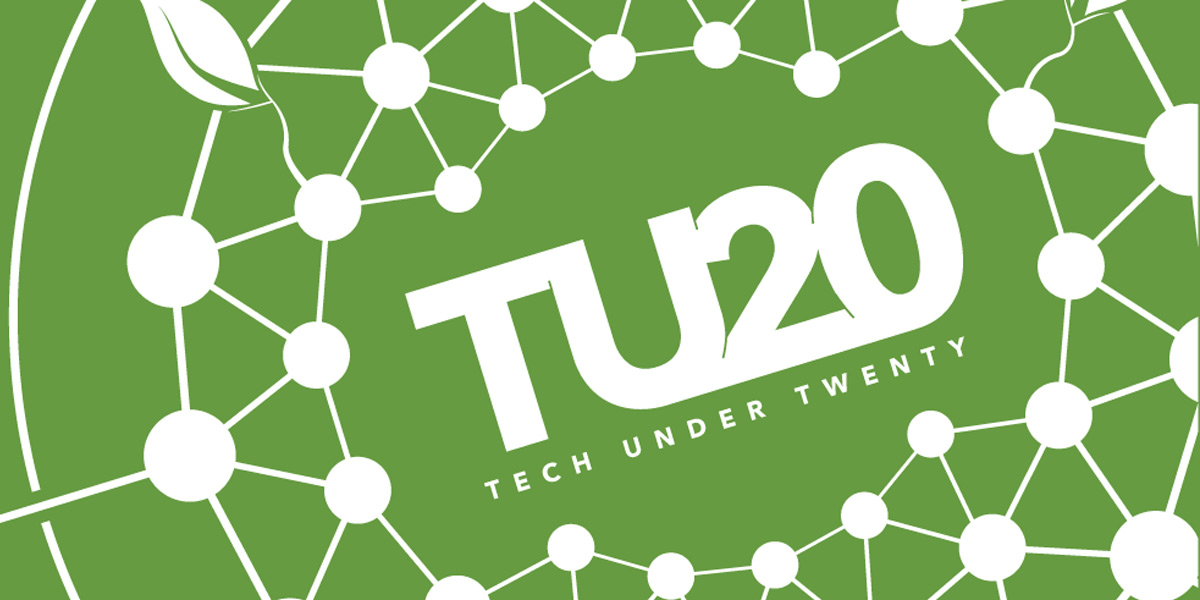 Who is Tech Under Twenty?
Tech Under 20 works as a division of Silicon Halton. We are a supportive and helpful tech/business community of youth under the age of 20 that live and study in Halton region. We hold events and workshops to help our new generation, the rising stars. Meet the Tech Under Twenty team >