Learn a new business or technical skill to enhance your career as a professional, entrepreneur or freelancer. Now is the perfect time.
About this event
During this time of pause in the mist of the novel Corona Pandemic, let's tap into our creativity and desire to be our best selves. Let's use this time to learn a new digital, skills and technical professional skills, to better position ourselves as futuristic, change makers and legacy builders.
The future of work is now! And less than five years from now, according to the World Economic Forum's Future of Jobs report, 5 million jobs will have been lost to automation. But technological advances – in robotics and machine learning, for example – will also create new jobs and change the skills that employers need from human workers.
To prepare underserved communities The ForUsGirls Foundation Inc. & Belvitt Consulting Inc, are partnering with SAP to create an informative, resourceful and impactful webinar to launch The ForUsGirls Foundation x openSAP Digital Learning Platform.
In this webinar will provide you with the following:
An overview of the openSAP platform
Instructions to register and participate in selected courses
How to obtain a certificate of completion for selected courses
How to maximize your new skill at work and in your career
How to maintain your motivation and consistency for digital learning
Select from a range of FREE course subjects:
Analytics, Digital Transformation, Cloud Solutions, Enterprise Management, SAP Cloud Platform, Social Responsibility, User Experience, Continuous Innovation, Human Resources and Sustainability.
Join this webinar to launch your new career and achieve the next level of success in your entrepreneurial journey.
This webinar is hosted by:
William R Laverde, Senior Engineer Product Support Digital Core at SAP
Robert Nichols, Product Manager, openSAP, Knowledge Transfer & Education, SAP Knowledge and Education
About openSAP
openSAP is SAP's free learning platform for everyone interested in learning about SAP's latest innovations and how to survive in the digital economy. openSAP Enterprise MOOCs are complete courses, and learners can earn a certificate to demonstrate the knowledge they've acquired. Complementary learning opportunities exist in the form of openSAP Podcasts and openSAP Microlearning.
About Aminka Belvitt (Organizer & Co-Host)
Aminka Belvitt, is an international speaker, award-winning entrepreneur, a Goalkeeper with the Bill and Melinda Gates Foundation, SAP Next-Gen Community Partner, Shopify Community Partner, UN Women/Empower Women Champion of Women's Economic Empowerment, a humanitarian, and senior strategy consultant. Recently, she was awarded the Entrepreneur of the Year Award by the Canadian Consulate General, in New York City, and Montreal YWCA Entrepreneur of the Year 2019. She is also the President & CEO of The ForUsGirls Foundation and Founder & CEO of Wofemtech Solutions Inc. Wofemtech, is a virtual collective empowering women through video conference and online course creation services and tools.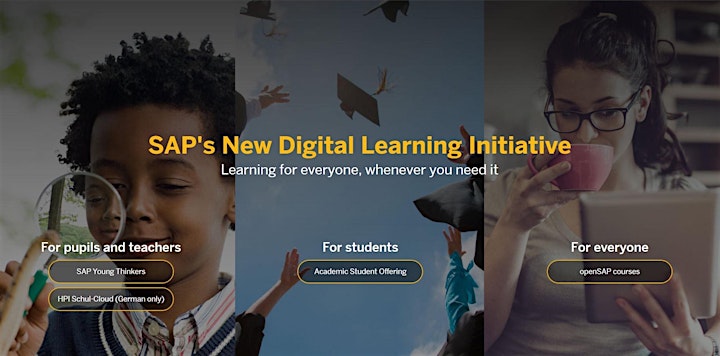 Organizer of Learn A New Skill: Digital Professional Development with openSAP
ForUsGirls is a Montreal-based not-for-profit international community organization. ForUsGirls is committed to the celebration, acceptance and development of marginalized unique, fierce and daring young women and girls. We provide mentorship, skills-based and leadership programs to empower young women and girls to be community and global leaders. We work within a feminist, social justice, inclusive, holistic and wellness framework. We engage, educate and empower our girls and community members through programs, events, and initiatives. Our work expands across Canada, the United States and the Caribbean. Our Quebec NEQ # 1173695603.