Location
Vancouver Lawn Tennis & Badminton Club
1630 West 15th Avenue
Vancouver, BC V6J 2K7
Canada
Learn how you can invest in institutional-grade commercial real estate deals quickly and easily with addy Accredited Investor Membership.
About this event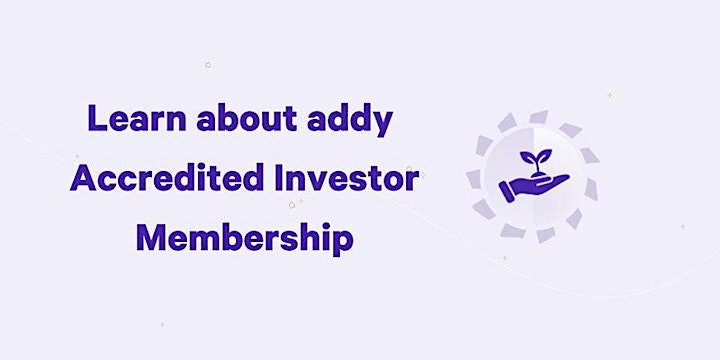 addy exists to level the playing field when it comes to investing in real estate.
Accredited Investors can help us!
Quality real estate deals are usually out of reach for everyday people. We're changing the game so that literally everyone has a chance to get into the market by investing with addy. We believe everyone should have the opportunity to own property through access to real estate investing at any amount, regardless of income, age, gender or background.
Join addy co-founder Stephen Jagger at The Vancouver Lawn and Tennis Club along with fellow real estate investors for a lively discussion on how we can leverage crowdfunding for investment properties.
Join us to learn;
How addy works
How you can get exposure to real estate opportunities across Canada
How your accredited status can help us eliminate barriers to entry for everyone
Agenda:
5:00pm - Doors Open
5:30pm - addy Presentation
7:00pm - End
Light snacks and beverages will be served.
About addy
At this moment, addy has facilitated over $10,000,000 in investments via 20,000+ transactions into 24 properties across Canada valued at over $425,000,000. Past investment opportunities include multi-family, commercial, industrial, mixed use and special purpose properties including hotels and RV resorts. Also opportunistic development opportunities across Canada.
Disclaimer
The information provided on addy's website, webinars, blog, emails and accompanying material is for informational purposes only. It does not constitute or form any part of any offer or invitation or other solicitation or recommendation to purchase any securities. It should not be considered financial or professional advice. You should consult with a professional to determine what may be best for your individual needs.
Forward-Looking Statements
Some information contains certain forward-looking information and forward-looking statements within the meaning of applicable securities legislation (collectively "forward-looking statements"). The use of the words "intention", "will", "may", "can", and similar expressions are intended to identify forward-looking statements. Although addy believes that the expectations reflected in such forward-looking statements and/or information are reasonable, undue reliance should not be placed on forward-looking statements since addy can give no assurance that such expectations will prove to be correct. These statements involve known and unknown risks, uncertainties and other factors that may cause actual results or events to differ materially from those anticipated in such forward-looking statements. Furthermore, the forward-looking statements contained in this news release are made as at the date of this news release and addy does not undertake any obligations to publicly update and/or revise any of the included forward-looking statements, whether as a result of additional information, future events and/or otherwise, except as may be required by applicable securities laws.