Event Information
Location
Calgary Marriott Downtown Hotel
110 9th Avenue SE
Room - Acadia B
Calgary, AB T2G 5A6
Canada
Description
"When I was an art student, I used to picture a finished image in my head but what came out from my right hand was nowhere close to what I imagined. The images were trapped in my head, wanting to be released, but I couldn't get them out. I soon figured out what I was lacking was basic drawing skills. From then on until I graduated art school, I took every drawing class I could fit into my schedule; and it was the best decision I made."
There are very small number of people who are naturally talented in drawing. For the rest of us, we can get better but only if we practice. Of course, we don't get dramatically better in just one day; it takes time and practice. One can learn the tips on how to be a better drawer in one day, however. The rest is remembering the tips and keep on working.
All those drawing classes over the years helped Yuko so much, she eventually ended up becoming an art school drawing instructor herself.
Consider this as a one day "drawing boot camp" - digest version of a drawing class that is usually taught in one year.
Yuko will guide you through several small drawing exercises with the goal of having fun while learning. These exercises include: drawing each other, drawing ourselves, volunteer models (clothed), and may even include going outside a bit to draw familiar and unfamiliar objects.
OBJECTIVE
Help artists of all levels improve their drawing skills dramatically.
THERE WILL BE FOUR MAIN POINTS
1> Learn how to see: good drawing starts from seeing things accurately. You will practice to break the barrier between drawing what you see and drawing what you think you see, the latter is a habit a lot of the artists cannot break out of. Once you learn how to draw what you actually see, your drawing skill gets dramatically better.
2> Building confidence: good drawing is, surprisingly, NOT really about good skills. The most important thing in a good drawing is confidence. Let's work on that together (and ready to throw that eraser away... or, hide it, at least)
3> Building visual memory: ever fantasized about being able to draw right out of your head? This workshop includes exercises on building visual memory. Building visual memory is like having your own picture dictionary in your head and keep adding images to it.
4> See things like an artist: artists are called artists because they can see things differently from how other people see.
LEVEL
From beginner to advanced, it's a fun day of drawing together, regardless of your level.
FIVE THINGS YOU'LL LEARN
1> Do not be afraid of that pen in your hand;
2> Basic and advanced drawing skills;
3> Tips and tricks to get better at drawing;
4> This is fun and not painful – seriously;
5> Drawing is for everyone, even if you think you can't do it!
---
ABOUT YUKO SHIMIZU
Yuko is an award winning Japanese illustrator based in New York. You may have seen her style gracing Pepsi cans, Gap and NIKE T-shirts, VISA billboard, Microsoft and Target ads, as well as covers of DC Comics and inside the pages of New York Times, TIME, New Yorker, GQ and Esquire. But illustration is actually her second career, after studying marketing and advertising in a university in Japan, Yuko got a position in corporate PR in Tokyo – a job she kept for 11 years. After having an early midlife crisis, she made up her mind to pursue her childhood dream of becoming an artist, and moved to New York to study at the School of Visual Arts in 1999. She received MFA in illustration in 2003 and has been illustrating ever since. When not in her studio, she teaches the next generation of artists at her alma mater. In 2009, Newsweek Japan chose Yuko as one of the "100 Japanese People The World Respects".
More info at yukoart.com
This special workshop is being brought to you as part of CAMP Festival.
---
CAMP Festival
Technology, Art & Design
Calgary, Alberta • Sept 21-22, 2015
For more information please visit campfestival.ca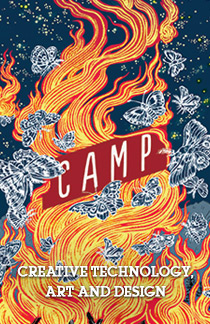 Date and time
Location
Calgary Marriott Downtown Hotel
110 9th Avenue SE
Room - Acadia B
Calgary, AB T2G 5A6
Canada