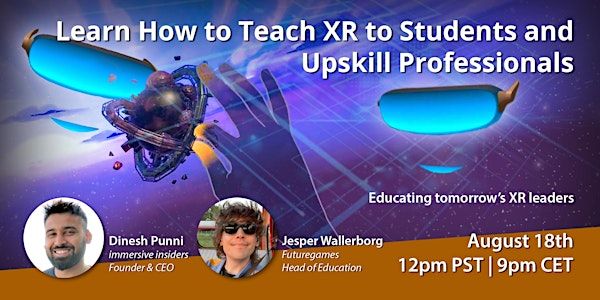 Learn How to Teach XR to Students and Upskill Professionals
Dinesh Punni (immersive insiders) & Jesper Wallerborg (Futuregames) join us to discuss how to teach XR for all skill levels.
About this event
Introduction:
Creating educational programs that meet the needs of students who come from a diversity of skill levels is one of the greatest challenges educators face. immersive insiders and Futuregames are tackling this challenge head-on by offering a variety of XR design classes that endeavor to meet students where they are at. Join us as Dinesh and Jesper walk us through their process of developing their forward-thinking programs and share with us their thoughts about the future of XR design and XR design education.
What we'll discuss:
How Futuregames and immersive insiders are meeting the educational needs of XR Designers
The challenges XR educators face when upskilling talent and running educational programs
The integration of ShapesXR into their educational pipeline
The future of XR and the need for XR education
About Futuregames:
At Futuregames, we offer educational opportunities at many levels, from short-courses for experienced professionals to full-time programs for future game developers who are just getting started in the industry. With almost 25 years of experience, Futuregames has consistently ranked as one of the best game educations in the world. Our former students make up over 14% of the Swedish game industry, working across game art, game design, programming, game marketing, and more.
About immersive insiders:
immersive insiders is an online education-and-community platform that teaches XR Design and Development. We work with universities to prepre students for the AR/VR industry through our live classes. After the classes, the students form groups to apply the learned knowledge by building a small XR experience within 5-10 days. For our XR Design live classes, we love using ShapesXR; it's very easy to learn and helps XR Designers create immersive VR and AR prototypes in very short periods of time.