Event Information
Refund policy
Contact the organizer to request a refund.
Eventbrite's fee is nonrefundable.
HeArt Intuitive Painting! We all have a personal inside story, that sometimes keeps us from hearing the voice of our intuitive heart.
About this event
Learn Intuitive Painting Live Zoom session with Intuitive Soul Artist Pamela Cail is known for her transformational Soul portrait sessions.
Rewriting our own personal inside story...
Re-Write Your Story Exercise Introduction to transformational Intuitive painting
Is it time to re-write your personal story? We all have a personal inside story, that sometimes keeps us from hearing the voice of our intuitive heart. It Is time to "Be" the star of your show! Each week will take a deep dive into your HeART!
The Art you create will tell a story and I am happy to help you figure it all out.
Meet Soul Artist Pamela Cail and other attendees, only 4 people Max this allows for quality time with everyone, very private and you will be able to ask questions and explore intuitive painting with ease.. There will be NO pressure to produce something.
Experience a Guided Meditation. Designed by Pamela intuitively, she will tap into the groups energy vibe and in the moment bring through the words of guidance, sounds and vibrations to bring everyone together. The intention is to create a coherent wave of energy to play in.
What you will need for art supplies;
1) One Canvas size appox 16" x 20" or close to this size
2) Acrylic paint, which ever colors you are drawn to; small package of 8-10 colors are suggested to start.
Acrylic medium gloss vanish if possible, Pamela will be sharing how she uses this product.
3) Palette knife and/or brushes, a jar of water for your brushes and a plastic plate for your paint
4) Rubber gloves if desired for finger painting
5) Heavy Multi Media crafting paper or watercolor paper size 7" x 10" or bigger, this can be purchased as a booklet.
6) a marker of any colour to write on back of canvas
7) Notebook & pen for note taking and for journaling if desired
8) plastic covering for your table or work area and paper towel
9) An Open Heart - we are here to have fun and learn how to quiet the mind
How to prepare your space;
PLEASE GET SET UP! At least 15mins before class starts
#1 Find Zoom link , it will be sent to your email address. Can't find your Zoom link email reaenergyart@hotmail.com immediately.
Sorry! Once class time starts I am NOT going to be able to assist you.
#2 Be Prepare so you are not rushing and we all would like to start on time. Settled into a Quiet area in your home or office space Try not to be disturbed for at least 90mins ( this is Your time let your family know)
You may want to Put down plastic covering on your table or work area.
#3 Dress comfortable, in clothing you are not worried about getting paint on.
Message from Intuitive Soul Artist Pamela Cail
The certificates that I have acquired over the past 15yrs are mostly Metaphysical. I am certified in many modalities/therapies such as Reiki Master Teacher, Theta, Metamorphic Touch, S.A.C. Spirit Alignment Connection, however I do not have a degree in Art therapy. I've taken many on-line art therapy programs over the past six years. My favorite self-study was Barbara Ganim's art therapy book called Art & Healing - using expressive art to heal body, mind & spirit. I've also been studying with Reverend Doctor Toni Petrinovich for over 10 yrs. She is located on Lopez Island, WA 98261 and I had the pleasure of attending one of her Summits in Utah 2011. It was Amazing! The people and information were very interesting. These Meta yoU School of Mastery courses are designed to take you into the depth of your potential. Revered Doctor Toni Petrinovich Sacred Spaces – I AM Divine (sacredspaceswa.com) I've had the awesome opportunities of working with many teachers and students in the Moncton, NB area, including Harrison Trimble High school, Sunny Brae Middle school, and Bernice MacNaughton High School. At HTHS the students collaborated together to create several beautifully vibrant pieces of healing art for their school which can be viewed above. Funding for this school project was provided by - The Canadian Mental Health Association.
I've taken all of this information that I have been absorbed in over the past 17 yrs, which also includes my own self-healing through art, to develop these painting from the HeArt therapy programs.
You are welcomed to read about my self awaking journey. I wrote this past year entitled "One HeArt Wisdom" Find the Courage to Own your Life. Available online through many outlets, also can purchase direct from my website www.rainbowrea.com and I'll personally sign it for you:)))
I am so happy to be sharing my heart to you!
This give me great Joy to assist others in awakening to the truth of who they truly are.
In these painting play-shops, the focus is on healing with art and, in particular, facilitating groups of people interested in expanding into their own heart space.
One is guaranteed a deeply enriching experience, just by you saying that 1st Yes to YOURSELF! C and Magic starts to occur!
I'll look forward to meeting you in the Zoom Room!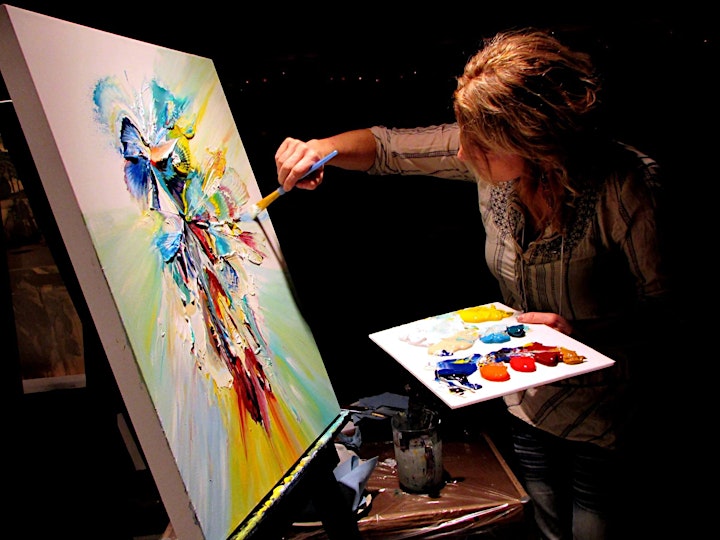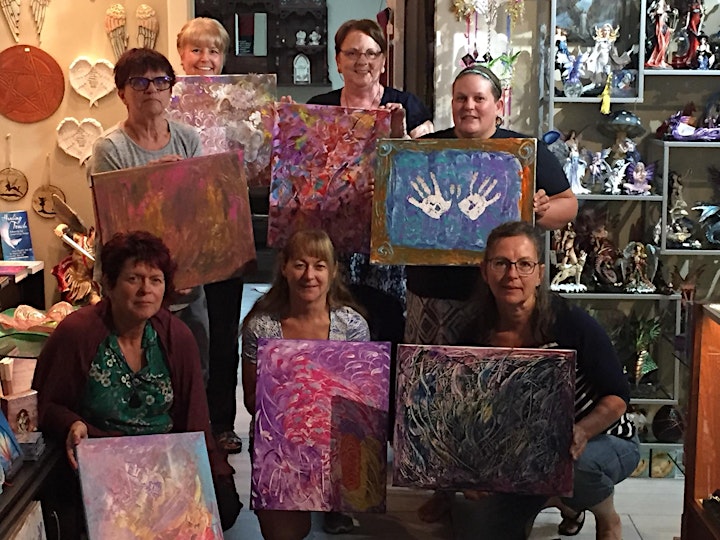 Date and time
Location
Refund policy
Contact the organizer to request a refund.
Eventbrite's fee is nonrefundable.