Learn to Dance in a Day: Intensive Beginners Dance Workshop Saturday April 20th at 1pm to 5pm

Saturday, April 20, 2013 from 1:00 PM to 5:00 PM (EDT)
Event Details
Jive Nation Toronto Presents
Learn to Dance in a Day Intensive Beginner Modern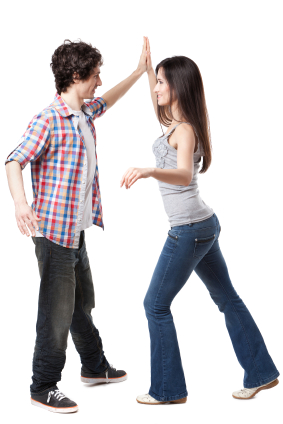 Jive Dance Workshop
Saturday April 20th 2013
(Modern Jive dancing is like a fusion of salsa and
jive, very trendy
with no fancy footwork to learn.
It is a perfect way to learn to dance for social occasions)
Saturday April 20th 2013
Where: Monarch's Pub Delta Chelsea Hotel, 33 Gerrard St. W, Toronto

at 1pm – 5pm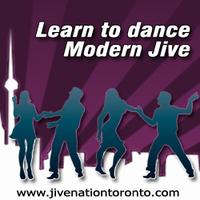 Get the basics of dancing, cement your Modern Jive dance lessons, boost your dancing confidence and learn to dance at our popular beginner dance workshop, the ultimate Fast-Track to freestyle dancing confidence on the dance floor. No previous dance experience required. No need to bring a partner.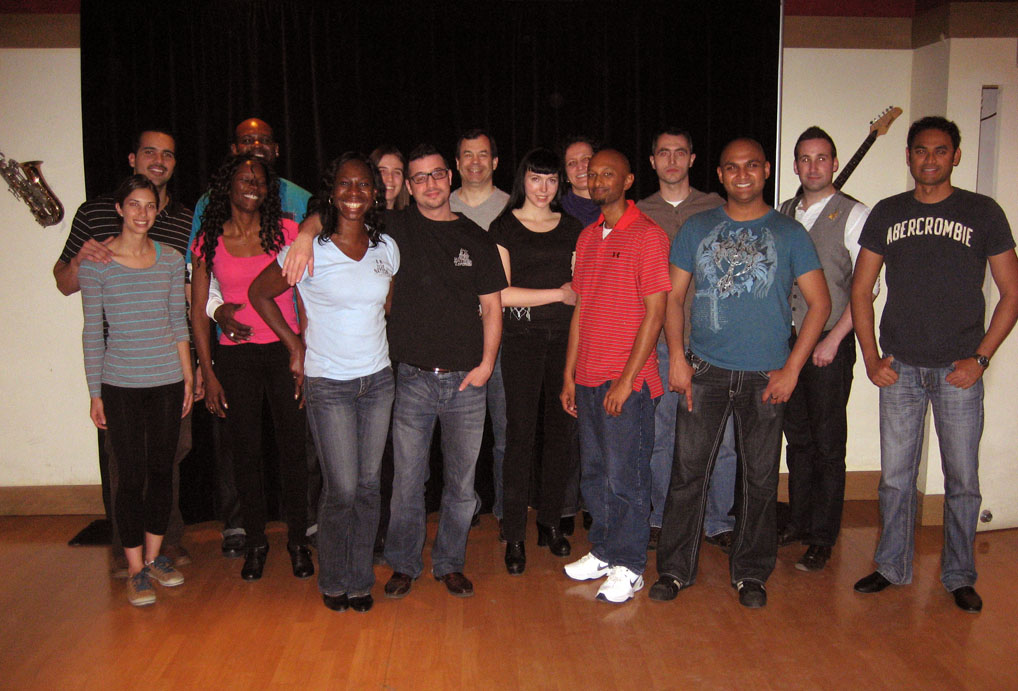 Our fabulous attendees at our November 17 2012 workshop - big smiles after the dancing, what a great group they were

 This course is perfect for you if you:
Want to quickly learn the basics of how to dance , so you can use in any social setting, including office parties, banquets, weddings etc

Have never danced before
Want to learn some stylish wedding dance steps very affordably
Want to build your dancing confidence
Or want to cement or refresh on your previous modern jive classes
 Come and spend a fun afternoon out with us - we will do the rest!
Ticket Prices include 13% HST
Your workshop price also includes our much-famed veggie and fruit snacks!
---
**In-class registration!  Register for your Beginner Intensive during our Weekly Modern Jive dance sessions and save money on registration! Cash or cheque only. Ask in class for details.

---
This popular Beginner Dance Workshop condenses weeks of modern jive dance lessons into just one 4-hour session to help you become confident on the dance floor fast – even if you've never danced before.
You'll learn how to dance some simple yet stylish actual dance routines -  in just one afternoon.

Leading from the front, our expert teacher will walk you through the moves one step at a time, breaking routines into easy to remember segments that you can easily recreate on the dance floor.
Scattered throughout the class are expert dancers who can provide you with indivdual tips and pointing to help you perfect your dancing technique.  Partners are not fixed so you'll have plenty of opportunity to meet new friends and dance with different people.
In just 4 hours you'll learn:
Several Beginner modern jive dance moves
Transitions
Fillers, and how to hear the musical beats and timing

Elegant dance steps that with practice you can easily recreate on the dance floor yourself
We get many questions about our very popular Intensive Beginners. Read our Intensive Beginners FAQ below to see the most freqently asked questions.
Jive Nation Toronto Intensive Beginners Workshop: Frequently Asked Questions
We run our popular beginner's fast track session for Modern Jive, using the intensive Jive Nation methods for fast-tracking beginners up to a confident level of dancing in one day. We get asked many questions, so here are some of the most frequently asked questions:
1.   Can I come alone? Is everyone coming as a couple?
A lot of people come along solo – we try to keep the numbers of men and women roughly balanced, so please let us know if you have invited a friend! You will meet everyone very quickly – the group size is usually about 6 men and 6 women, and we change dance partners every 5 minutes or so.
2.    What is Modern Jive?
You will be learning Modern Jive using the Jive Nation method – we focus on modern music and sophisticated but simple partner dance moves – it's almost always to 4/4 time pop music. This is NOT ballroom jive, or old style rock'n'roll or salsa or swing – it's a simple, smooth modern version of all the best parts, simple and fun to learn.
The Jive Nation METHOD is about  LOTS of quality repetition during the 4 hour beginners' intensive course, preferably followed by any of our evening class passes to cement your dance skills, build your confidence AND meet loads of wonderful people.
3.  What should I wear?
Just wear something you feel comfortable in, such as: Jeans / shorts /casual dress / t shirt /pants/trousers – you will find we're pretty casual. It's a fun, physical practice workshop so there's no need for formal dress.
4.  What shoes do I need?
Smooth soled trainers or leather soled shoes work well for the first few months. After a few months, if you are TOTALLY loving it (and you will!) then consider investing in a nice pair of dance shoes from one of our recommended stores, or online dance shoe sellers – ask Nicky if you'd like some recommendations.
 5. What are the costs  for the Workshop and the Class Pass options?
$15 - Casual evening pass (class and freestyle social)
$58 – 4 Class Modern Jive Pass

$95 – 8 Class Modern Jive Class Pass (Good for up to 1 year from 1st activation. Great  value!)
$59.00 – Saturday Beginners Intensive Afternoon Modern Jive MasterClass

$100.00 – Saturday Beginners Intensive Attend it with a friend MasterClass
6. I don't have a partner. Do we change partners in the course?
Yes, we change partners every 4 or 5 minutes – this is the fastest way to get everyone up to speed, PLUS you get to meet so many more fabulous people. 
7. How often do you hold the Saturday Intensive beginners session held?
We currently run it every couple of months however check the www.jivenationtoronto.com  website for latest dates and updates.
8.   Should I bring food or drink?
We usually provide some water and fresh vegetable and fruit snacks, however 4 hours is a marathon, so make sure you have lunch before hand. You can also arrive early and have a bite to eat – the Monarch's Pub has a full bar service.
9. What if I've never done ANY kind of dancing before?
No worries. Just jump in, feet first, and we will teach you, and you will fly through with confidence. Just come along!
10.   Can I invite a friend?
Please do! You can have them sign them up online. Please note we can only count registered people who have signed up  online as firm attendees.
11.   What will I learn?
The rhythm and basic footwork for a 4/4 modern jive, to upbeat modern pop music – plus simple dance moves and links to put together and MASTER 4-5 fun and fabulous dance routines with all the partners in the room. It's a HUGE confidence builder – just go for it!
12.   I've danced a bit before - Is Modern Jive the same as Salsa or Ballroom?
There are some similar elements with regard to leading and following – however the timing of Jive Nation Toronto modern jive is different to all of these – we use a 4/4/ box step repeating pattern - its as simple as you can make it – we don't use ballroom jive triple steps, we don't use the salsa footwork count, and we don't use the UK Ceroc single back step – our steps are much simpler than all of these. You will love it.
13.    What sort of music will we be dancing to?
We keep our music very modern and upbeat, all Top 40 – chart and pop music that you hear on the radio and at good nightclubs and parties.   
Please note: The organizers reserve the right to cancel or reschedule this event should the miniumum number of registrations not be attained, or in the event of any other extraordinary or unforseen circumstances, or circumstances beyond our control. Should we cancel the event your registration fee will be refunded.
Or call Nicky on 416-500-3314.
Full venue details will be sent to attendees with registration.
Have questions about Learn to Dance in a Day: Intensive Beginners Dance Workshop Saturday April 20th at 1pm to 5pm?
Contact Jive Nation Toronto
When & Where

Monarch's Pub
33 Gerrad St West
Toronto
Canada

Saturday, April 20, 2013 from 1:00 PM to 5:00 PM (EDT)
Add to my calendar
Organizer
Learn to dance with Jive Nation Toronto. Excellent teaching and great fun at an unbeatable price. No partner needed! For more information and to find out how you can boost your confidence on the dance floor in weeks not years visit http://www.jivenationtoronto.com
or email jivenationtoronto@gmail.com
Tel: Nicky on 416-500-3314