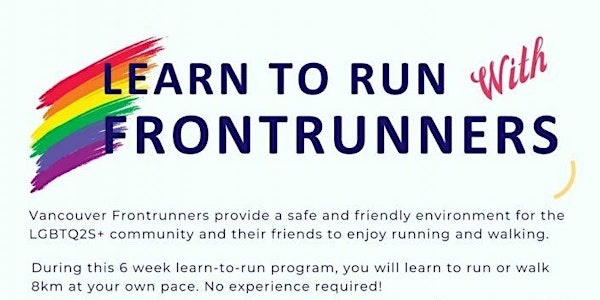 Learn to Run / Return To Running with Vancouver Frontrunners
FREE! Learn to run or return to running - we'll prepare you for a 5k non-stop run over this six-week program.
About this event
Join us for our Fall 2022 FREE Learn to Run / Return to Running program, starting Saturday, September 17th, 2022!
Over this 6-week program, we will meet twice a week, on Saturday mornings and Wednesday evenings. Our group runs along the seawall at both of our run locations, and we'll build capacity using a progressive run-walk interval program similar to "couch to 5k" programs. By the end, you should be able to run 5km or more non-stop at your own pace.
The group follows a #NoOneLeftBehind approach; faster-paced runners will loop back periodically, keeping the group together and social!
Start Date: Saturday, September 17th, 2022.
Every Saturday: at 9:00 am at Brockton Oval, Stanley Park.
Every Wednesday: at 6:30 pm at the Roundhouse Community Centre.
Concludes: Saturday, October 29th
A week before we launch we'll send all registered participants a welcome letter with all the details on what to expect, tips on stretches and more.
Sign up with confidence, we're a welcoming, fun, social, group! Your coaches are members of Vancouver Frontrunners, Canada's longest-running LGBTQ+ running and walking group. 2023 is our 40th anniversary!