Hiding From Winter Was sooooo 80s! Lets go skiing!
About this event
LET'S GO SKIING
From time immemorial (Yes. It has been that long) BGOW has wanted to create opportunities for this Community to learn to ski.
This year with help from our partners Salomon, Arc'teryx and Caledon Ski Club we are bringing you the first ever BGOW Learn to Ski event.
This 3 part Learn to Ski event (you heard that right 3) will provide you with an opportunity to learn from some of the best in a more private setting and with Community.
WHAT TO EXPECT:
3 days of learning to ski (spread over three separate sessions) at Caledon Ski Club (rental gear included).
Schedule
1st session: January 2, 2022 – 2hr lesson (1:30 to 3:30)
2nd session: February 13, 2021 (1:30-3:30)
3rd session: March 6, 2021 (Full day arrive 9:00 A.M lessons from 10-12 and then free ski)
Transportation (carpooling) to and from Toronto
Light snacks
Fun, Fun, Fun!
WHAT YOU WILL NEED:
Lunch (think warmth and energy. Due to COVID-19 restrictions we will not access have to communal lunch areas)
Layers (a good Google Search*what do I need for skiing* search will be your friend.)
Each participant will receive an item courtesy of Arc'teryx.
THINGS TO NOTE
*You are required to provide proof of full COVID-19 vaccination to attend these events and are expected to adhere to COVID-19 protocols*
We ask that you only sign up only if you are able to commit to all 3 sessions (minimum 2). The aim for this event is to create the opportunity for racialized folks to enjoy the benefits of (re)-entering this sport with strong Community support and to someday be able to pay-it-forward. These are introductory ski lessons.
Further information re meeting location, waivers and requests for sizing details will be provided via email after registration*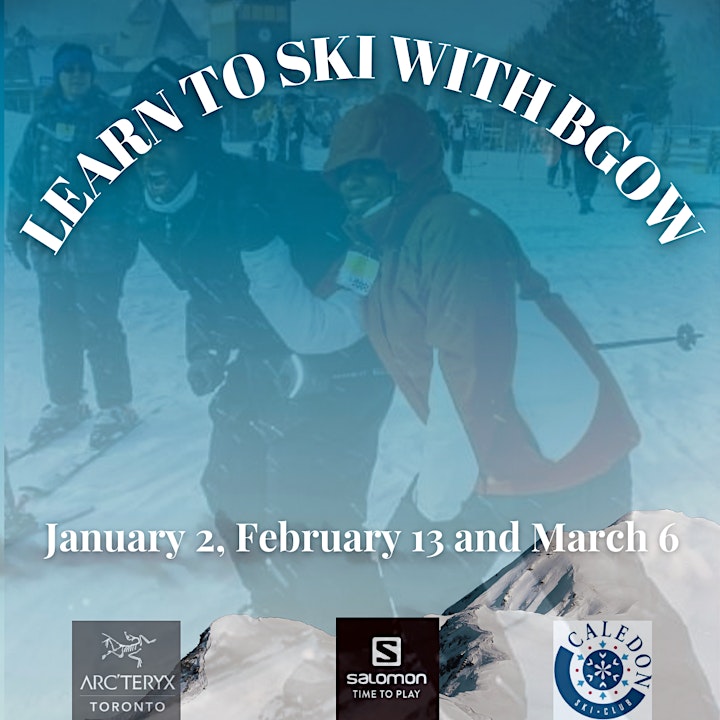 Organizer of Learn to Ski with BGOW