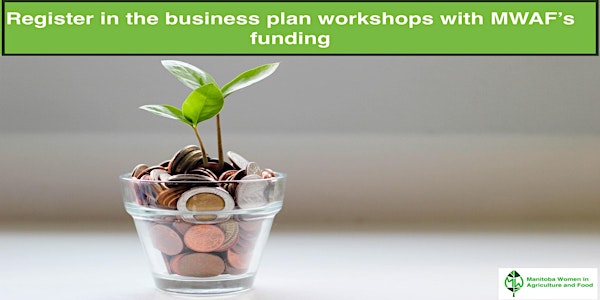 Learn to write your Business Plan - Online Workshop series
In this workshop series you'll: 1) discuss your business idea with experts, 2) develop your business plan, & 3) follow up with coaches
About this event
DEVELOP YOUR OWN BUSINESS PLAN and CLAIM MWAF'S SUBSIDY
​Starting a business appeals to many women but to succeed you MUST have a business plan. You need knowledge and skils to do it. The Manitoba Women in Agriculture and Food (MWAF) can help. We partnered up with Farm Credit Canada, Manitoba Agriculture and Resource Development, The Women's Enterprise Centre of Manitoba and the World Trade Centre Winnipeg (WTC Winnipeg) to offer a series of workshops where you'll write your own business plan. You'll have an opportunity to discuss your business idea in private with experts. After, your business plan is completed, you'll also have an opportunity to follow up and discuss implementation and results with coaches and mentors.
The program consists of 6 workshops on Wednesdays, 3 h each, morning or evening and is delivered by WECM
In addition, we'll provide funding to cover the cost of the workshop series.
Cost: $231 including tax. Our subsidy is 75% for MWAF members and 50% for non-members. We'll provide the funding until it's exhausted so it is a good idea to get it as soon as you can. Non-members have the option to become a member and receive the 75% discount.
HOW OUR FUNDING WORKS
Eligibility: all Canadian women that have a business idea or have an existing business in the agriculture & food sector are eligible. Please, see more here. You MUST confirm your eligibility and choose the refund level by contacting MWAF's Chair, Laura Lazo, 204-487-4980, or mbwomeninagnfood@outlook.com.
To access our subsidy: Once your eligibility has been confirmed, please register and pay for the course on WECM's webpage and submit the receipt to MWAF by email to mbwomeninagnfood@outlook.com. We'll follow up with the refund you chose.
Next dates/times: Next workshop series starts Apr 21 and ends May 26, Wednesdays, 8:45-11:45 am. See details on WECM's calendar.