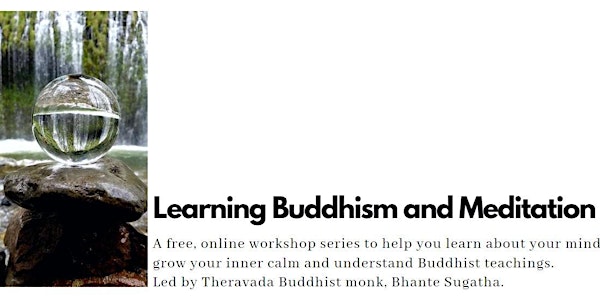 Learning Buddhism and Meditation
A series of online workshops teaching meditation techniques and Buddhist teachings.
When and where
Location
Winnipeg 88 Cadboro Winnipeg, MB R3Y 1R7 Canada
About this event
Learning Buddhism and Meditation is an ONLINE 7-week meditation course taught within the Theravada Buddhist tradition by Banthe Sugatha of the Manitoba Buddhist Vihara Centre. Over the length of the course you will learn Buddhist teachings and how to apply them to your daily life and meditation techniques that have been practiced for over two thousand years.
The course will include:
Meditation Techniques
The Four Noble Truths
Kamma (Karma) and Results
Generosity
Each weekly one-hour session can include instruction time, sitting meditation and a question and discussion period.
This course will be online only and held each:
Wednesday
7 p.m. to 8 p.m.
January 25th to March 8th
This course is free but donations are gratefully accepted and can be done via etransfer to manitobabuddhists@gmail.com or directly through our website at Manitoba Buddhist Vihara Cultural Centre
Bio:
Banthe Sugatha was ordained as a monk 16 years ago in Sri Lanka in the Theravada Buddhist tradition. He has practiced meditations under various Forest Traditions teachers in Sri Lanka and is currently the chief monk of the Manitoba Buddhist Vihara Centre located in Winnipeg Manitoba.
Theravada Buddhism is the oldest existing tradition of all the Buddhist traditions. It centers itself on the Pali Canon which has preserved the Buddha's teaching for over two thousand years.
Manitoba Buddhist Vihara Centre
https://mbvca.com