Description
HR Breakfast Bengaluru: Learning & Development in Our Changing World
The Learning & Development initiatives of old simply do not work anymore. To truly implement training that produces results, in-house HR Professionals and L&D specialists need to adopt a new approach.
This highly interactive session will share practical tips on how to create a learning environment that works for everyone. We will explore techniques, approaches, and initiatives that will engage training participants, while simultaneously delivering the required results that your organisation needs.

During the session, you will experience first-hand techniques that will allow you to manage your in-house L&D initiatives more effectively, achieving a higher ROI on your training budget.
This session is perfect for in-house HR Professionals and Key Decision Makers of organisations.
Breakfast will be provided.
Interactive Elements | LEGO® Serious Play® Method | Role Play & Group Discussions | Technology | Profiling Tools |
Numbers are limited, so please register to guarantee your place.
MEET THE SPEAKER: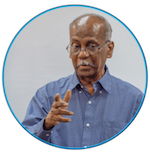 Arul is the CEO and Lead Facilitator at Centre for Creative Thinking. He has over 30 years of experience as a corporate trainer, and holds an MBA with a major in Strategic Human Resource Management. He is recognised for his ability to facilitate learning sessions using gamification and game-based learning practices. He currently oversees and designs all aspects of Centre for Creative Thinking's global L&D footprint.
Arul has completed the Certification Training in Designing & Facilitating Workshops using Lego® Serious Play® method and materials, and is also an accredited administrator of the MBTI suite of instruments and a certified EQ Trainer (6 Seconds Network, USA and Institute for Social + Emotional Intelligence, USA).