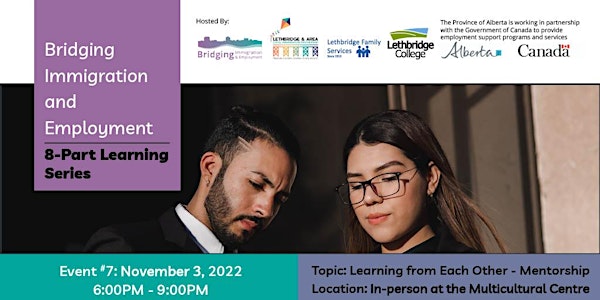 Learning from Each Other - Mentorship (for Newcomers)
Bridging Immigration and Employment Project: Learning from Each Other - Mentorship
When and where
Location
Multicultural Centre 421 6 Avenue South Lethbridge, AB T1J 0Y7 Canada
About this event
Bridging Immigration and Employment is excited to host our seventh event in this 8-part learning series, and the first in-person session of the series. This event will take place at the Multicultural Centre in downtown Lethbridge.
The evening session runs from 6:00PM to 9:00PM and will cover the topics of: The Value of Mentorship and Connecting Employers and Newcomer Talent in Mentorship.
The Value of Mentorship
A facilitated discussion on the value and power of mentorship from a newcomer's perspective.
Connecting Employers and Newcomer Talent in Mentorship
In this session you will learn what mentorship is, and how it can be used as an effective strategy to build careers and networks as a newcomer job seeker.
Both sessions presented by Bruce Randall - Calgary-based mentoring consultant and former Executive Director of CRIEC
Randall was the founding Executive Director of Calgary Region Immigrant Employment Council (CRIEC), an organization which designs, develops and delivers mentoring programs for newcomer professionals while providing supportive leadership in career path planning for newcomer professionals and employers. CRIEC also provides mentoring support and expertise to other mentoring programs across Canada. Randall holds a Bachelor or Laws and Bachelor of Civil Law from McGill University Law School and served as General Counsel, Vice-President Law and Corporate Secretary with The Forzani Group, as well as CCM: The Hockey Company prior. Randall is actively involved with numerous associations within the immigrant sector including, but not limited to: Chair and Board Director of Miskanawah Community Services Association, Co-founder and Board Member of Influence Mentoring Society, Steering Committee Member of BlackNorth Initiative, Alberta Chapter, Senior Advisor of Alberta Mentorship Program, Partner Committee Member of Bio Talent Canada, and more. Randall is also a current Sessional Lecturer at Mount Royal University and Red Deer College, lecturing in Law for the Non-profit and Non-Profit Governance, and Governance.
Complete the pre-event survey if you have not attended our learning series before: