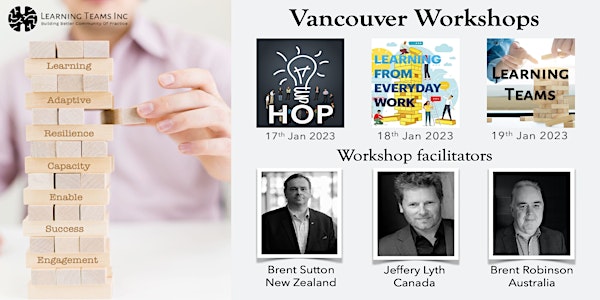 Learning from Everyday Work
This 1-day workshop will introduce participants to the principles and practices of Learning from Everyday Work
When and where
Location
UBC Robson Square 800 Robson Street Room c440 Vancouver, BC V6Z 3B7 Canada
Refund Policy
Contact the organizer to request a refund.
About this event
Operational learning opportunities exist in normal everyday successful work. Learning from everyday work involves a way to gather intelligence from the opportunities that are presented by normal work for both frontline teams and the organization. Frontline teams have an opportunity to self improve through an intentional learning process and better understanding of operational learning that occurs between "Work As Imagined" (WAI) and "Work As Done" (WAD).
This one-day workshop is divided into 3 separate though connected topics that are designed to help build your knowledge, understanding, and application of everyday learning in your organization.
Part 1: When is the best time to learn
In this section we will explore:
The iceberg analogy (What organizations see above the waterline versus below the waterline)
Understanding the difference between noise and weak signals in everyday work
The difference between organizational and worker learning in normal work
Part 2: Introducing the 4Ds (Dumb, Dangerous, Difficult and Different)
In this section we will explore:
The purpose of the 4D framework
How the organization and workers make sense of the 4Ds
The value of Critical Appraisal and Critical Thinking to build self improving work teams
Part 3: Using the 4Ds for different operational applications
In this section we will explore applications for:
Worker Insights
Pre-Planning/Pre-Start activities
Evaluating critical risks, defences and critical steps
Management of change
Near miss/Near Hit Events
Continuous Improvement
Brent Sutton is well regarded as a safety coach and for taking organizations on a learning journey to understand how people are seen as the solution, how to engage people and leverage their skills so that worker participation becomes a normal way of running an organization, where everybody benefits. Brent is the co-author of the best selling book on Learning Teams and host of the podcast show "The Practice ofLearning Teams" and resides in Auckland, New Zealand.
Brent Robinson is an operational excellence advocate and has worked across operations, sales and product development functions in United States, Australia and New Zealand. Brent is the co-author of the best selling book The Practice of LearningTeams. Brent lives in Melbourne, Australia and has a passion for quality and safety that has driven his belief that the convergence of the two will drive better outcomes for any organization.
Jeffery Lyth is a well regarded innovator in workplace safety leadership. He helps organizations evolve their safety management practices by guiding their exploration and integration of the 'new view' of safety principles and to help them break through the performance plateaus associated with conventional views of health and safety. He is the owner of www.safetydifferently.com and resides in North Vancouver,British Columbia, Canada.
Lunch is not provided
Coffee, tea, and light snacks will be provided at start time and at AM and PM breaks
Ticket price will increase by $100 on December 17