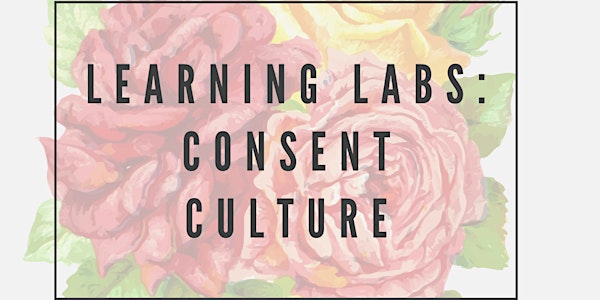 Learning Labs: Consent Culture Webinar
The learning labs provide an opportunity for applicable, hands on, full-day training at an affordable rate.
Refund Policy
Contact the organizer to request a refund.
Eventbrite's fee is nonrefundable.
About this event
Cultivating Consent Culture Learning Lab
No prerequisite
This full-day training session explores the larger social context of sexual violence, and the individual, collective, and cultural impact of this violence both inside our organizations and our communities as a whole. Participants will explore and problematize current common practices for addressing and preventing sexual violence within our organizations.
Additionally, participants will explore strategies and best practices for addressing these realities within our spaces and by extension, our communities. Practice implications with an understanding of the legislative context and the values of anti-oppressive practice.
Systemic implications as well as cultural shifts are explored through a strategic framework rooted in community accountability, liberation and transformative justice. Case studies and samples of policies and interventions will be explored and contextualized for theatre companies and the performing arts. The roles of various stakeholders in the processes of accountability and transformation are explored.
The session uses the introductory framework of Rania El Mugammar's Cultivating Consent Culture Workshop which uses the anti-oppression frame work to understanding rape culture and the mechanisms by which it manifests inside arts and community spaces. Practices and principles for fostering brave spaces and a culture of consent will be explored, along with problematizing existing models and practices. Prevention and responses to disclosure are key principles for this workshop. This session is ideal for artists, organizers and administrators in arts and community spaces across disciplines. The session is deeply rooted in transformative justice practices and a culture of care built on meaningful, survivor centred interventions.
Fees
$ 375 (+ HST) for 1 lab (up to 4 staff/board members from your organization)
$ 675 ( + HST) for 2 labs (up to 4 staff/board members from your organization per session)
About B Inc. Learning Labs
The B Inc learning labs provide a unique and hands-on learning opportunity for theatre companies to expand their learning and improve their capacity to create safer and more inclusive spaces for diverse staff, artists, and audiences.
The sessions are facilitated in an intensive and hands on model that provides participants with tangible tools and practice implications to explore and implement within their organizations. This full day training provides opportunities for reflection, discussion and examining case studies.
Each lab is followed up with an hour long, private consultation with B Inc Consultant Rania El Mugammar, which is included in your registration fee. This consultation is confidential and can be used to discuss ongoing opportunities and challenges within your organization or to gain insight on a particular project.
Please note: We strive to create a brave space for all participants. In order to help folks make bold moves into progressive thinking and actions, all conversations and material shared during these workshops are strictly confidential and cannot be shared through media of any kind.
Please note that because our workshops take place on evenings and weekends, access to the Barns is restricted. The building also houses live/work spaces for artists so security is particular about after hours access. Our amazing staff will be around to guide you into the building and provide access on the west side of the building nearest Christie Street.
Wheelchair accessible, with elevator access. There are automatic doors to enter either side of Wychwood Barns where we are located. The door to our studio is wide enough for mobility devices but not automatic.
Gender neutral accessible washroom on 2nd floor, wide enough for mobility devices, but with no automatic door. Gendered accessible washrooms on ground floor, wide enough for mobility devices and with an automatic door.
Please make all ASL requests in writing to Rania@raniawrites.com at least 10 days before the event to ensure availability of 2 interpreters.
This event is facilitated by award winning artist, anti-oppression educator & B Inc program director Rania El Mugammar.
Disclaimer
We welcome participation from all community members, however, in the interest of privacy and confidentiality and to support a safe learning environment, media and journalists are not to attend a session (unless it is outside of their professional capacity). Please contact media@raniawrites.com for all media requests