Evain Maurice from Belleroots Farm will share gardening tips, tour his greenhouse and speak of all the reasons why you should have one, too!
About this event
Introducing: Learning Local with the MCC! A series of online workshops and educational presentations providing all audiences across Georgian Bay with the opportunity to learn and experience a variety of locally-inspired, creative and culturally-diverse topics.
HOMEGROWN HARVEST with Belleroots Farm:
Evain Maurice from Belleroots Farms, and co-owner of Farm2Door, will guide participants on a tour of his greenhouse and share invaluable gardening tips. The workshop will also include a special talk about how to successfully grow tomato plants in various scenarios. Hear the growing reasons why Evain believes you should have a greenhouse, too!
EVAIN MAURICE:
Born and raised on a dairy farm, Evain quickly became fascinated with all things agriculture. In his teenage years he turned to music as a career choice and took this idea to college. It was in music college that he learnt how to learn, how to manage his time and work with his peers. This time in his life gave Evain the spark he holds today to be steadfast in all that he does.
After graduating from college, it became apparent to Evain that he was to be apart of the local food scene. This was not a vision of a poor farmer but one to help lead sustainable agricultural, as well as social and economical ideas. The farm is his tool to show to others no goal is too big and everything you set your mind to can be achieved. In 2019 after 5 years of building the farm from the ground up, Evain was awarded the prize for Best Local Farm in the region of Simcoe and Muskoka. This was due in part to the endless reading, trial, and the help he gave older farmers in return for knowledge and wisdom.
In 2015, Evain helped create a global supply chain through an innovative farming technology. This organic product is helping farmers gain more yields and helping to regulate the plants capabilities to minimize damage from adverse weather.
In March of 2020, Evain co-founded Farm2Door to help all our local producers during these unprecedented times of covid-19 lockdowns. Farm2Door offers over 400 local products to be purchased online and offer a delivery or pick up option. They also sell their products in store at 159 Balm Beach Rd. East in Tiny Township.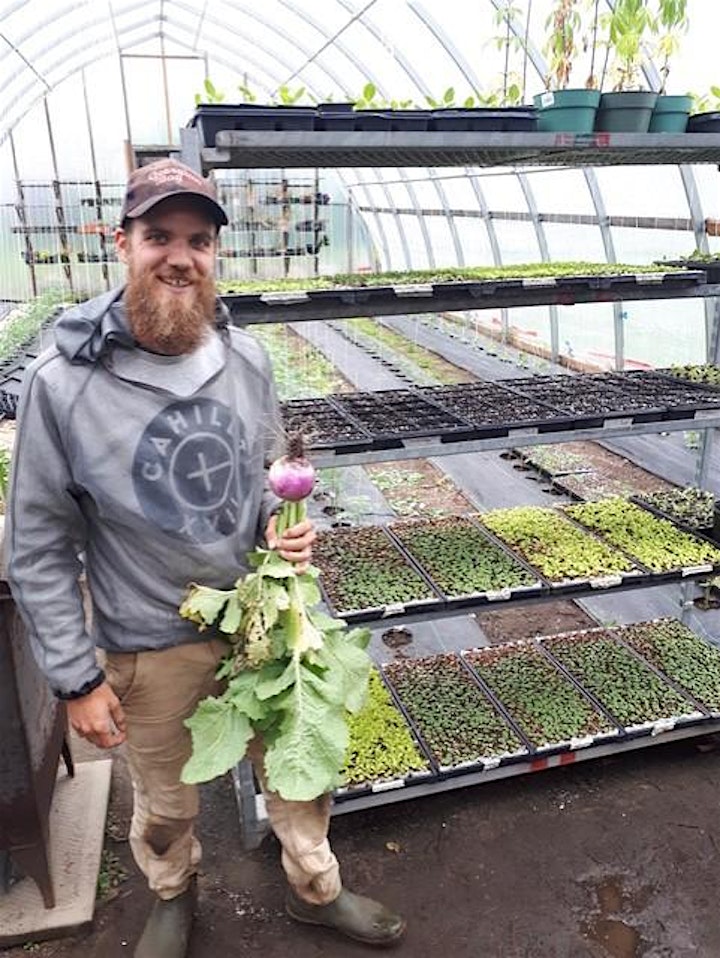 Evain Maurice at Belleroots Farm.
Organizer of Learning Local with the MCC - Homegrown Harvest with Belleroots Farm