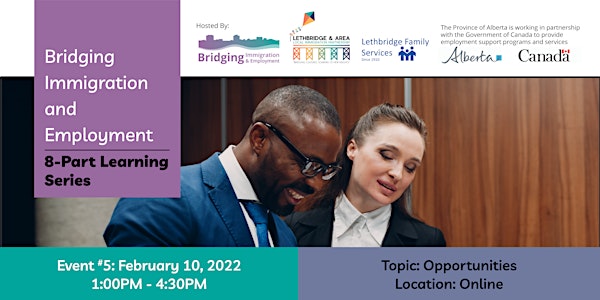 Learning Series #5 - Opportunities (For Employers and Service Providers)
Sales Have Ended
Registrations are closed
Registration on EventBrite has closed; however, we know schedules change and understand if you are here to register last minute. We closed this page to ensure we don't miss anyone when sending out the Zoom link. You can still join us! Please email bridgingemploymentprojectyql@gmail.com to let us know and we'll send you the link.
Bridging Immigration and Employment Project: Opportunities
About this event
The afternoon session runs from 1:00PM-4:30PM and will cover the topics of: Understanding Language Levels and Best Practices for the Workplace and Workplace Inclusion Charters.
Understanding Language Levels and Best Practices for the Workplace
Presenter: Alana Johnson, Norquest Rural Routes Initiative
Alana Johnson has been active in English language learning for 15 years. Alana worked for many years as an instructor as well as a Workplace Essential Skills Specialist. Alana currently works with the NorQuest Rural Routes Initiative, and is a Southern Alberta co-chair for the Alberta Teachers of English as a Second Language.
This session will look at the framework used to describe the language ability of people who are learning English for reading, writing, speaking and listening. We will also look at creating plain language documents. Plain language is an approach to writing that focuses on ensuring that documents are easy to read and comprehend. Participants will learn how to use plain language to convert existing organizational documents, as well as create written texts that are easy for intended audiences to understand the first time!
Workplace Inclusion Charters
Presenters: Meagan Reid – Coordinator, Bow Valley Immigration Partnership; Racheal Adeyemo – NEC Coordinator, Newcomer Connections, YMCA of Greater Saint John; and Krystell O'Hara - Equity & Inclusion Program Manager, Regional Municipality of Wood Buffalo
Meagan Reid came to the Banff region for outdoor recreation but stayed for the community. Since its launch in 2014, Meagan has coordinated the Bow Valley Immigration Partnership (BVIP) where she helps stakeholders from every sector and walk of life work together to ensure the Bow Valley is a place where all residents can participate, thrive, and know that they belong. Together with employers, service providers, and community members, Meagan helped create Canada's first Workplace Inclusion Charter program in 2017.
Racheal Adeyemo joined the YMCA Newcomer Connections as the Quality Assurance Specialist in July 2020, carrying out evaluations on the programs and services the Newcomer Connections provides to newcomer clients in Saint John. Following the success of the NEC pilot, Racheal has been coordinating the delivery of the program in the Greater Saint John Area.
Krystell O'Hara is Latino Colombian woman and a mother of two, she is an antiracism facilitator and social justice advocate. Krystell is currently the Equity and Inclusion Program Manager for the Regional Municipality of Wood Buffalo and is the acting Chair for the Equity and Inclusion Committee for the Artic Winter Games. She holds a cum laude degree in International Relations and Political Science, studies on Immigration: Laws, Policies, and Procedures with the University of British Columbia, and studies in Management Systems, Krystell is also a Certified Community Interpreter and a Leadership Wood Buffalo Program alumni, which is a Community Leadership Development Program. Prior to her current role, Krystell was the Coalitions Creating Equity Coordinator for the Wood Buffalo region, a province-wide initiative that brings together regional community networks, organizations, and individuals across Alberta to collaboratively address issues of discrimination, inequity, and racism.
After she moved from Colombia to Fort McMurray, Krystell worked for the Multicultural Association of Wood Buffalo as the Project Manager of the Interpretation and Translation Unit, where she facilitated the Community Interpretation Training to certify individuals as Community Interpreters. During her time with MCA, she also served as Events and Volunteer Coordinator engaging and encouraging more than 30 different ethnocultural communities to exercise their right to freely participate in the cultural life of the community by expressing their own cultural heritage. In 2020, Krystell was on of the recipients of the Your McMurray Magazine top 50 under 50.
Workplace Inclusion Charters are community driven programs that identify straightforward actions employers can take to support the success of equity seeking team members and that recognize employers for their inclusion efforts. Join Rachael, Meagan, and Krystell to learn more about how these charters operate in Saint John, NB, Banff, AB, and Fort McMurray, AB – just three of the communities across Canada who have used this simple but effective model.
The Newcomer Employment Champion - NEC was developed by the Employment and Training Working Group of the Saint John Local Immigration Partnership (SJLIP) to help address employers' concerns about hiring, onboarding and retaining newcomer employees. The goal of the NEC is to support employers beyond CCT and provide them with a toolkit and best practices for more inclusive hiring practices.