Learning Support for Academic Success: A Transformational Journey
Description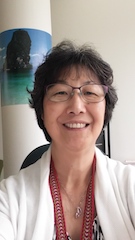 Join us for this special presentation by Jean Mark. Jean is devoted to helping and supporting post-secondary students become successful learners at university and beyond in learning support roles at the University of Calgary and Mount Royal University. This includes teaching specific learning strategies, recommending the use of specific tools (ie. apps and assistive technology) and developing student self-awareness.
Her strong knowledge and skill sets have successfully supported those impacted by ADHD, Autism Spectrum Disorder and/or LD and other mental health disorders. She has been involved with the ADHD support groups in Calgary for many years.
Jean has a BA in Psychology (University of Guelph) and a diploma in Community Rehabilitation and Disability Studies (Faculty of Medicine at the University of Calgary).
Where exactly is this classroom?
This space can be tricky to find – but don't give up! As you enter the Universtiy of Alberta hospital at street level from the 112 street (East) entrance, look to the left for a set of double doors and an escalator/staircase. If you enter from the 114th Street (West) entrance, walk through the hospital all the way towards the 112 Street entrance and look to your right for the double doors and escalator/stairs.
Take the escalator/stairs to the second floor. Turn to your left and make a U-turn, proceeding along the hall (following the crosswalk style lines on the floor), across a small walkway that looks over the entrance below; this brings you into the Faculty of Medicine and Dentistry space. Classroom A is through a set of doors (usually opened), down a short hallway, on your left.
Signage with the ADHD Association of Greater Edmonton logo will be placed to help you find your way.