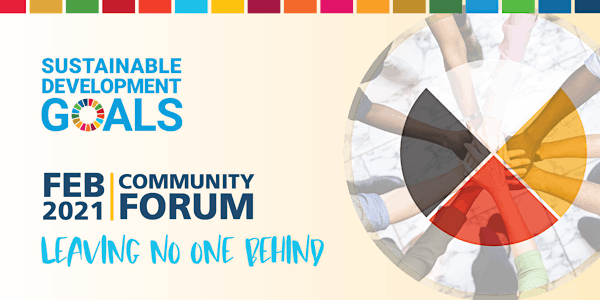 Leaving No One Behind: Advancing the SDGs in Nogojiwanong/Peterborough
Centering Indigenous Leadership and Diverse Perspectives to Advance the Sustainable Development Goals in Nogojiwanong/Peterborough
About this event
Summary:
Centering Indigenous Leadership and Diverse Perspectives to Advance the Sustainable Development Goals in Nogojiwanong/Peterborough is a free virtual forum designed to share and build on the collective work of over 100 community members on five local priority action areas to reach the 2030 targets:
SDG #1 No Poverty,
SDG # 4 Quality Education,
SDG #6 Clean Water and Sanitization,
SDG #13 Climate Action,
and Prioritizing Indigenous Leadership.
We invite you to join us to learn together and deepen our understanding of advancing the SDGs with our community in a way that leaves no one behind and prioritizes Indigenous leadership for success in this work.
About this Event:
"We respectfully acknowledge that we are on the treaty and traditional territory of the Michi Saagiig Anishinaabeg, Treaty 20 and Williams Treaties. We offer our gratitude to the First Peoples for their care for, and teachings about, our earth and our relations. May we honour those teachings."
Hosted by the Kawartha World Issues Centre (KWIC) and GreenUP, in collaboration with community partners, we are working to advance the Sustainable Development Goals in Nogojiwanong/Peterborough.
In March 2020, KWIC and GreenUP received the Sustainable Development Goals Program funding for a one year project called Advancing the SDGs 2030 Agenda in the Peterborough and Kawartha Area, which aims to further Canada's commitment and progress towards the 2030 Agenda for Sustainable Development through local engagement.
The 2021 SDG Forum highlights 4 local SDG priority action areas through the lens of Indigenous Leadership and with the intention to leave no one behind to achieve these goals.
For more information on the 2019 SDG Forum, the 2020-21 Project and background information on leaving no one behind in the 2030 Agenda, please visit KWIC's website: https://kwic.info/advancing-sdgs-peterborough-nogojiwanong
For information on the UN Sustainable Development Goals, visit: UN SDGs
-------------------------------------------------------------------------------
Forum Program Feb 24th & 25th:
*We invite you to enter the forum spaces 10-15 minutes prior to the event start time.*
Session 1: February 24, 2021 from 10:00am to 12:30pm
Session 2: February 24, 2021 from 7:00pm to 8:30pm
Session 3: February 25, 2021 from 10:00am to 12:30pm
Full Itinerary:
Day #1:
Objective: Raise awareness of the 2030 Agenda through the work of the Project Action Teams, and to prioritize Indigenous leadership and leaving no one behind.
Session 1: Wednesday February 24th from 10:00am-12:30pm
Indigenous Leadership Presentation: "Looking to the Past to Move us Forward"
⧫Welcome, Land Acknowledgment and Prayer
⧫Project Summary Presentation
⧫Indigenous Leadership Presentation: "Looking to the past to move us forward" with Elder Phyllis Williams, Anne Taylor and Gary Pritchard
⧫Break Out Discussion Rooms
⧫Plenary Discussion | Closing Words
Session 2: Wednesday, February 24th from 7:00pm-8:30pm
Why an Intersectional Approach and Indigenous Leadership are Central to Leaving No One Behind
⧫Welcome, Land Acknowledgment and Prayer
⧫S.S. Ahmad, Green Beacon, Dr. Alan Corbiere and Oshkwazin Indigenous Youth Leadership Program
⧫Closing Words
**Attendance at the Feb 24th Indigenous Leadership Evening Program is strongly encouraged for meaningful participation in the Feb 25th program.**
Day #2
Objective: Enhancing multi-stakeholder efforts by promoting partnership and bridging efforts across sectors in support of the 2030 Agenda; specifically focused on advancing this work locally through LNOB and centering Indigenous leadership.
Session 3: Thursday, February 25th from 10:00am-12:30pm
Localizing the SDGs through the Lens of Leaving No One Behind and Intersectionality
⧫Welcome, Land Acknowledgment and Prayer | Brief Recap: Feb 24th Highlights
⧫Localizing the SDGs - Project Action Team Presentations:
SDG #1: No Poverty - Joëlle Favreau
SDG #4: Quality Education - Liz Stone and Faith Mwesigye
SDG #6: Clean Water & Sanitation - Elder Dorothy Taylor and Meredith Carter
SDG #13: Climate Action - Anna Currier and Dana Jordan
⧫Breakout Groups: Reflection and discussion on the intersectionality, partnerships, resources, and work of advancing 'leaving no one behind' on the priority action areas (Breakout groups will be organized based on registration information provided.)
⧫Plenary Discussion, Next Steps | Closing Words
-------------------------------------------------------------------------------
Resources:
Are you feeling unsure about what are the SDGs and why they are important for our community? Here a few resources to help you along your learning journey:
January 20th SDG Launch 7pm (FREE Event): https://hopin.com/events/sdgs-launch-trent-university
Demystifying the Sustainable Development Goals
Advancing the SDGS in Ptbo/Nogojiwanong
Priority Action Report 2019 Forum
Inclusive and Equitable Education - Leaving No One Behind Video
About Accessibility:
We are dedicated to creating accessible, inclusive and welcoming spaces. For example, this forum will have closed captioning and transcripts available. We will also be recording parts of this event to share with those who cannot attend. Please do let us know on the registration form if there are any other accommodations that you require to enable your fullest participation.
Photo & Recording Permissions:
Please complete the registration form to confirm your knowledge of the recording and permission for photos during the virtual meeting.
Photo Context:
**Directly below** A photo of some of the attendees from the SDG Community Forum in 2019, held at the Mount Community Centre in Peterborough.
**Bottom of page** This illustration was sketched by local Jason Wilkins, based on the discussions, reflections & priorities identified at the 2019 SDG Community Forum.