October 07, 2021- Montreal Projection du film "Tramontane" de Vatche Boulghourjian
About this event
La cinquième édition du Festival du film libanais au Canada aura lieu à Montréal du 3 octobre au 7 octobre 2021.
Date : Le jeudi 7 octobre 2021
Endroit : 3500, boul. Côte-Vertu Ouest, Montréal (Québec) H4R 2X7
21 h - Projection du film « Tramontane » de Vatche Boulghourjian
en arabe avec sous-titres anglais
Rabih, un jeune aveugle, vit dans un petit village au Liban. Il chante dans une chorale et édite des documents en braille pour un revenu. Sa vie s'effrite lorsqu'il tente de demander un passeport et découvre que sa carte d'identité, qu'il a portée toute sa vie, est un faux. Voyageant à travers le Liban rural à la recherche d'un enregistrement de sa propre naissance, il rencontre des gens en marge de la société qui racontent leurs propres histoires, ouvrent d'autres questions et donnent à Rabih des indices mineurs sur sa véritable identité. Descendant dans un vide au cœur de son existence, Rabih rencontre une nation incapable de raconter son propre récit.
Avec : Julia Kassar, Barakat Jabbour, Toufic Barakat
Les billets sont disponibles sur Eventbrite.ca, par téléphone au (514) 552-5153 et par courriel à info@lffcanada.com.
Pour de plus amples renseignements, veuillez visiter www.lffcanada.com ou communiquer avec nous à info@lffcanada.com.
---------------------------------------------------------------------------
The fifth edition of the Lebanese Film Festival in Canada will take place in Montreal from October 03 till Oct 07, 2021
Date: Thursday, October 7 2021
Location: 3500 Blvd. Cote-Vertu Ouest, Montreal, Quebec H4R 2X7
9:00 pm - Screening of the movie 'Tramontane' by Vatche Boulghourjian
in Arabic with English subtitles
Rabih, a young blind man, lives in a small village in Lebanon. He sings in a choir and edits Braille documents for an income. His life unravels when he tries to apply for a passport and discovers that his identification card, which he has carried his entire life, is a forgery. Traveling across rural Lebanon in search of a record of his own birth, he meets people on the far fringes of society who tell their own stories, open further questions and give Rabih minor clues about his true identity. Descending into a void at the heart of his existence, Rabih encounters a nation incapable of telling his or its own narrative.
Starring: Julia Kassar, Barakat Jabbour, Toufic Barakat
Tickets are available on Eventbrite.ca, by phone at (514) 552-5153, and by email at info@lffcanada.com.
For more information, please visit www.lffcanada.com or contact us at info@lffcanada.com.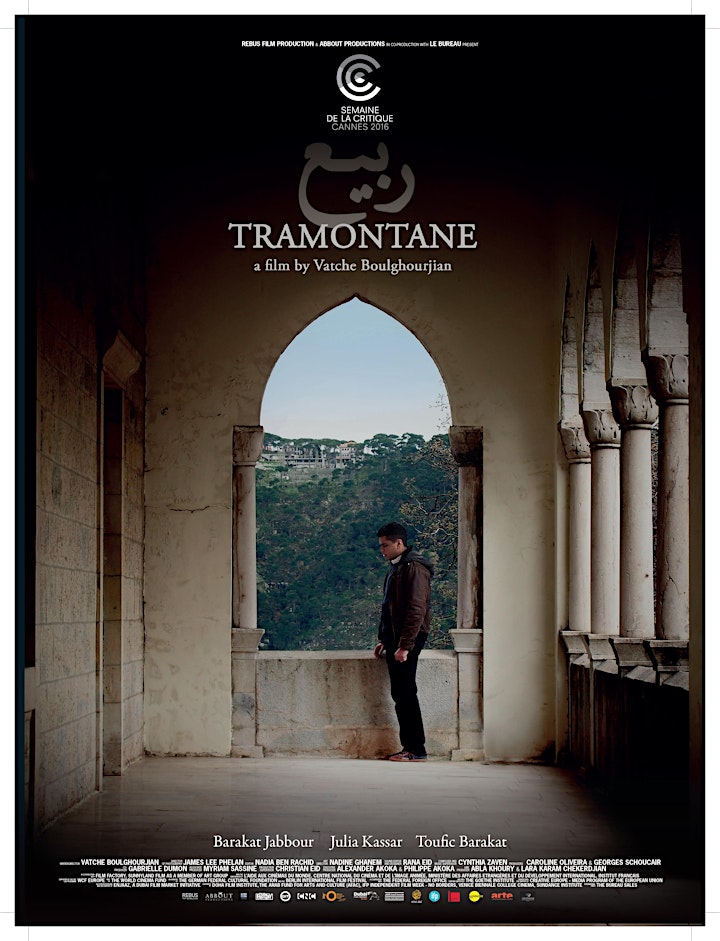 Organizer of Lebanese Film Festival in Canada - Tramontane - Montreal