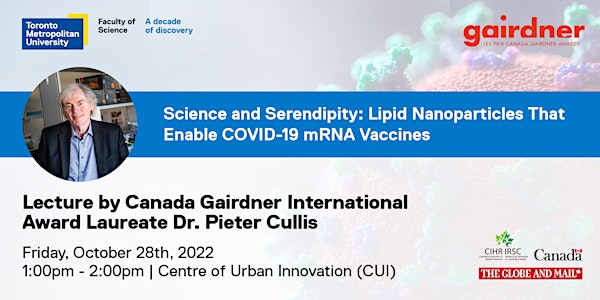 Lecture by Canada International Gairdner Award Laureate Dr. Pieter Cullis
Science and Serendipity: Lipid Nanoparticles That Enable COVID-19 mRNA Vaccines
When and where
Location
Centre for Urban Innovation at Toronto Metropolitan University 44 Gerrard Street East Toronto, ON M5B 1G3 Canada
About this event

In celebration of the Faculty of Science's 10th Anniversary, we are hosting 2022 Canada Gairdner International Award Laureate Dr. Pieter Cullis as part of the Gairdner National Program lecture series.
Join us on October 28th at 1 pm for an insightful lecture from Dr. Cullis on Science and Serendipity: Lipid Nanoparticles That Enable COVID-19 mRNA Vaccines
Dr. Pieter Cullis' Research
Dr. Pieter Cullis is a professor in the Department of Biochemistry and Molecular Biology at the University of British Columbia. Dr. Cullis was awarded the 2022 Canada Gairdner International Award for his pioneering work developing nucleoside-modified mRNA and lipid nanoparticle (LNP) drug delivery: the foundational technologies for the highly effective COVID-19 mRNA vaccines. The Canada Gairdner International Award recognizes outstanding biomedical researchers whose unique scientific contributions have increased the understanding of human biology and disease and contributed to the relief of human suffering.
The work of Dr. Cullis, among others, enabled the rapid availability of highly effective and safe COVID-19 mRNA vaccines, which have become a critical tool for the control of the COVID-19 pandemic. These discoveries also have the potential to revolutionize the future delivery of effective and safe vaccines, therapeutics and gene therapies. The success of the mRNA vaccines for COVID-19 suggests paths forward for similar vaccines for viral threats like influenza or HIV. Clinical trials are already underway to test mRNA vaccines to prevent diseases caused by Zika virus, chikungunya and rabies infections.
Learn more about Dr. Cullis' research and impact.
Abstract
Nucleic acid-based drugs such as small interfering RNA (siRNA) for gene silencing and mRNA for gene expression have the potential to treat most diseases. However, sophisticated delivery systems are required to enable the clinical use of these macromolecular genetic drugs. Lipid nanoparticle (LNP) technology is increasingly enabling genetic drugs by packaging the nucleic acid polymer in well-defined nanoparticles that protect the nucleic acid payload in vivo and facilitate intracellular delivery following uptake into target cells. This delivery approach received clinical validation with the approval of Onpattro by the FDA in 2018 to treat transthyretin induced amyloidosis (hATTR), a previously fatal disease. Onpattro consists of an LNP formulation containing siRNA to silence TTR in the liver following an intravenous injection. In this talk I will describe how basic research led to the design features that were followed to develop Onpattro and how related technology is being employed to enable mRNA-based drugs. A notable example is the development of the Pfizer/BioNTech mRNA vaccine, which is playing a leading role in alleviating the Covid-19 pandemic.
The Canada Gairdner Awards
The Gairdner Foundation was established in 1957 with the main goal of recognizing and rewarding international excellence in fundamental research impacting human health. Seven awards are given each year: five Canada Gairdner International Awards for biomedical research, one John Dirks Canada Gairdner Global Health Award, for impact on global health issues, and one Canada Gairdner Wightman Award, for a Canadian scientific leader.
Celebrating ten years of the Faculty of Science at TMU
2022 marks the 10th anniversary of the founding of Toronto Metropolitan University's Faculty of Science. Over the past decade, we've developed thriving programs in Physics, Computer Science, Mathematics, and Chemistry and Biology ​​— with BSc, MSc and PhD programs in every department. Our scholarly, research and creative activities have expanded in breadth, depth and impact, and we have grown significantly in research funding and output. Join us as we commemorate ten years of growth and ring in the next decade of science at Toronto Met.