Maintaining Corporate Records
About this event
Join us on November 11 to learn from Suresh Sriskandarajah, Business and Technology Lawyer at Suresh Law!
In this masterclass, Suresh will be discussing the importance of maintaining corporate records.
Corporations are required to maintain records from the moment they are incorporated. In the initial stages, corporate by-laws, resolutions and share registers are created. On a periodic schedule, these would get updated based on the needs. Potential investors, partners and government may request access if needed.
Learning Outcomes: Participants will learn about the various documents involved in maintaining corporate records including by-laws, share registers and resolutions.
Event Schedule
Date: November 11
Time: 1:00-2:00pm
Location: Virtual-Link to join via Microsoft Teams will be available on the Event Page after registering & sent to you via email.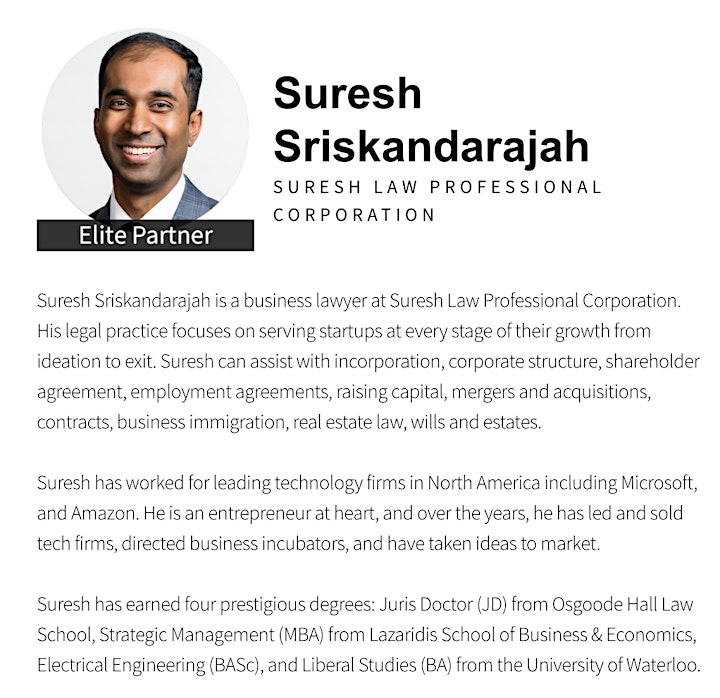 Join us for Do It In Durham Entrepreneurship Week 2021 - Durham Region's own forum to celebrate, inspire and support entrepreneurship.
This event series is a collaboration of organizations and resources for businesses in Durham Region, in partnership with business owners and entrepreneurs sharing their expertise.
Check out the full events calendar: doitindurham.biz
Organizer of Legal Masterclass - Maintaining Corporate Records (Suresh Law)