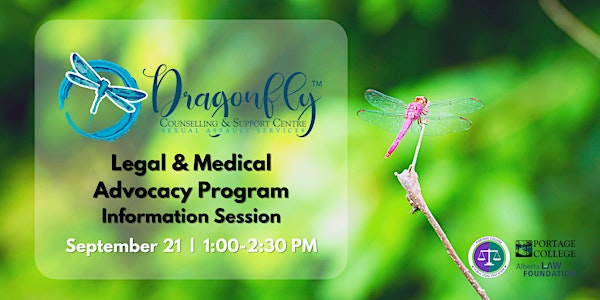 Legal & Medical Advocacy Program Info Session by the Dragonfly Centre
DCSC offers a continuum of support services including crisis intervention, counselling, police/court/medical support.
About this event
Since 2014, Dragonfly Counselling & Support Centre (DCSC) has been the primary sexual violence service provider for the North East Region of Alberta devoted to addressing the widespread issues related to sexual violence. DCSC counselling and support services are free of charge and available to survivors (historical or recent) and support persons; individuals and families.
DCSC understands that the legal and medical systems can be difficult to navigate. Their advocacy program is designed to help survivors of violence find support on their journey. Processes such as disclosures, reporting, RCMP, court, and medical/hospital visits can be confusing and overwhelming.
Join us to learn about the continuum of support services offered by the Dragonfly Centre including:
Counselling,
Crisis,
Advocacy,
Education, and
Outreach.
A more detailed description of the DCSC Advocacy program which provides support to survivors who are accessing the court, police, or hospital systems, as well as an overview of sexual violence definitions, prevalence rates, common myths and facts, and reporting options will also be discussed.
Details on how to join this session on Zoom will be emailed 1 day prior. If you do not receive the invitation, please contact the host at shelley.jackson@portagecollege.ca
Please visit PLEonline.ca or our Eventbrite event listings page for information on other upcoming free public legal education events.