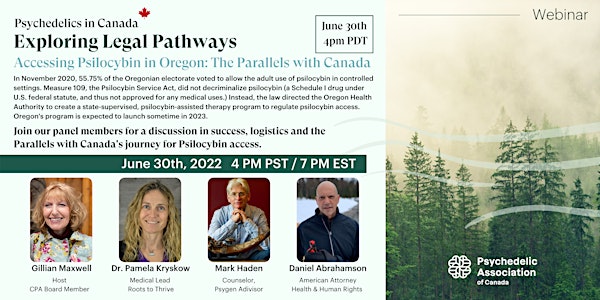 Legal Pathways #3: Accessing Psilocybin in Oregon & Parallels with Canada
Refund policy
Contact the organizer to request a refund.
Eventbrite's fee is nonrefundable.
Accessing Psilocybin in Oregon & Parallels with Canada
About this event
In November 2020, 55.75% of the Oregonian electorate voted to allow the adult use of psilocybin in controlled settings.  Measure 109, the Psilocybin Service Act, did not decriminalize psilocybin (a Schedule I drug under U.S. federal statute, and thus not approved for any medical uses.)  Instead, the law directed the Oregon Health Authority to create a state-supervised, psilocybin-assisted therapy program to regulate psilocybin access.  Oregon's program is expected to launch sometime in 2023.
How is Oregon's program designed?
What hurdles has Oregon encountered during its 2-year ramp-up process?
What can Oregon and Canada learn from one another?
Join our panel members to answer these questions and ask some of your own.
Thursday June 30 2022
As a member of the Psychedelic Association of Canada, you get access to all of our events. Find the link to claim your free ticket in our members' area.
Not a member yet? Join us! Learn more about our membership here: www.psychedelicassociation.net/support-the-cpa
Looking to support greater access to psychedelics in Canada? You can make a donation here: Donate Now
The recording of this event will be made available one week after the event.
Thank you for your support.
Speakers:
Mark Haden
Mark is the Vice President of Business Development at Clearmind , Advisor at Medicine Psygen, and an Adjunct Professor at the University of British Columbia School of Population and Public Health. He was the executive director of MAPS Canada (Multidisciplinary Association for Psychedelic Studies) for 10 years. He has published numerous papers on the issue of drug control policy and psychedelics and has provided public education on drugs and drug policy for over 30 years.
Daniel Abrahamson
Daniel Abrahamson is an American attorney who works at the intersection of public health, criminal law, and human rights. In 1996, he founded the Office of Legal Affairs of the Drug Policy Alliance, the leading organization devoted to drug policy reform in the U.S. and served as DPA's Director of Legal Affairs for two decades. Abrahamson also has served as an adjunct professor of law at the University of Virginia, University of California Berkeley, and Hastings College of Law. He received his B.A. from Yale University, his M.A. from Oxford University, and his J.D. from New York University School of Law and served as a law clerk to two federal judges.
Dr. Pamela Kryskow, MD
Dr. Pamela Kryskow is a medical doctor in Vancouver, British Columbia. Her training includes Family Medicine, Rural Emergency Medicine, Chronic pain, Functional Medicine and Ketamine Assisted Psychotherapy. She is currently working with colleagues on research related to Ketamine Assisted Psychotherapy, Psychedelic Microdosing, MDMA for Chronic Pain, Psilocybin, and Psychedelic therapy. For transparency, Dr. Kryskow is an advisor as follows: Clinical Advisory Council for Numinus Bioscience- Medical Advisor for Fungi Perfecti. Dr. Kryskow has signed the North Star Ethics Pledge.
Host:
Gillian Maxwell
Based in British Columbia, Canada, Gillian brings her experience in harm reduction, drug policy reform, and coaching along with a wide and diverse network of colleagues and associates, who value her knowledge and wisdom. Gillian was a member of the Vancouver Police Board for three years. She co-founded the Canadian Drug Policy Coalition (CDPC), served on the board of directors of MAPS Canada for over 10 years, and spoke at conferences nationally and internationally. In 2012, Gillian received Queen Elizabeth II, Diamond Jubilee Medal, for community service in introducing harm reduction to Vancouver and successfully advocating for INSITE, North America's first supervised injection site, that opened there in 2003. Currently Gillian is the co-founder and director of The Sentinel Retreat and Wellness Centre, a Psychedelic Practitioner and co-founder and member of the board of directors for the Psychedelic Association of Canada.