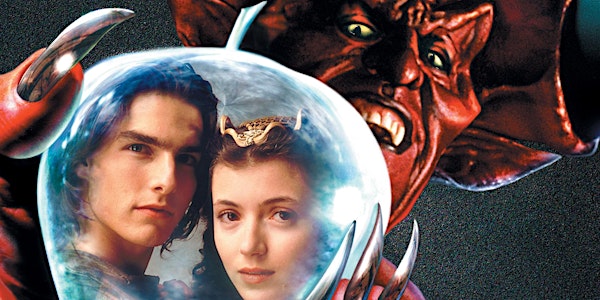 LEGEND (1985) - Presented By Hollywood Suite (FREE SCREENING!)
Enjoy a free screening of LEGEND, with an introduction by Hollywood Suite's Cam Maitland and a sneak peak of Cinema A to Z: Monsters.
When and where
Location
The Revue Cinema 400 Roncesvalles Ave Toronto, ON M6R 2M9 Canada
About this event
Enjoy a free screening of Ridley Scott's 1985 fantasy classic LEGEND, with an introduction by Hollywood Suite's Cam Maitland and a sneak peak of the upcoming Cinema A to Z: Monsters.
Hollywood Suite is excited to invite you to this free screening to celebrate the upcoming premiere of the latest episode in their original documentary series Cinema A to Z. This October, Cinema A to Z will turn its lens on the greatest movie monsters of all time, including Legend's demonic antagonist Darkness.
After a pair of futuristic sci-fi hits with Alien (1979) and Blade Runner (1982), director Ridley Scott turned his attention to the world of fantasy, with the dark adventure Legend. Set in an enchanted forest filled with magic and wonder (and unicorns), a pair of young lovers, Jack (Tom Cruise) and Princess Lili (Mia Sara) are torn apart when Lili is captured by the Lord of Darkness (Tim Curry) as part of his evil plan to cast the world into eternal night. Jack must join forces with the elves, fairies and dwarves who inhabit the woods on a heroic quest to defeat Darkness and save the Princess and the world.
Legend was a notable stepping stone for Cruise, a newly-minted star thanks to his leading roles in 1983's Risky Business and All the Right Moves, before 1986's Top Gun would make him a box office legend in his own right. This was also the first feature film appearance for Mia Sara, who would have her biggest success as Sloane Peterson in Ferris Bueller's Day Off one year later.
But the real standout (as though he is capable of NOT standing out) is Tim Curry, who captivates and terrifies as Darkness. In daily 5 1/2-hour sessions, special effects makeup master Rob Bottin (The Thing, Total Recall) transformed Curry into a larger-than-life, red, horned demon that has surely stalked the nightmares of every 80s kid lucky (or unlucky) enough to come across Legend on VHS.
*Max 2 Free Tickets Per Person!
ABOUT THE FILM
LEGEND
USA | 1985 | 134 minutes | PG
Directed by: Ridley Scott
Starring: Tom Cruise, Mia Sara, Tim Curry