Description
La méthode LEGO® SERIOUS PLAY® en français
---
Formation d'une journée développée spécifiquement pour les personnes curieuses et intéressées à apprendre le processus de LEGO® SERIOUS PLAY®
« Une excellente façon de vivre l'exemple d'une formation ! »
Cette formation d'une journée a été développée spécialement pour ceux qui souhaitent en apprendre plus et qui sont curieux de comprendre le processus de la méthode LEGO® SERIOUS PLAY®. C'est une excellente façon d'apprendre la base de la méthode.
La méthode LEGO® SERIOUS PLAY® est un processus, de renommée internationale, utilisé par les organisations pour engager les participants à générer des idées novatrices pour l'amélioration des organisations.
La méthode LEGO® SERIOUS PLAY®ce n'est pas seulement amusante, ça fonctionne en réalité très bien pour les adultes de tous âges, dans toutes les démographies et dans toutes les cultures.
C'est une approche puissante qui vous permettra de réaliser des projets. Si vous recherchez une nouvelle approche pour aider vos clients ou votre équipe à s'exprimer de manière créative, kinesthésique, auditive et visuelle, cette formation est pour vous.
---
À la fin de cette formation
Un ensemble de briques spéciales LEGO® pour réaliser votre première mini session de 6 personnes

Une compréhension de base de la méthodologie conçue par le LEGO® Systems Group au Danemark, avec le suivi de la méthodologie et la théorie.

Inclus le lunch au midi

Inclus autres surprises
---
Lieu de la formation
Strategic Play en français, heureux d'offrir les formations de la méthode LEGO® SERIOUS PLAY® à Institut Innovation Gatineau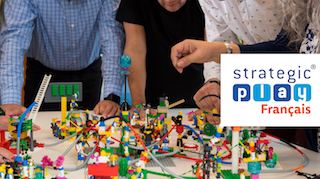 Consulter notre site Internet : Strategicplay.com
DESCRIPTION
If you are curious about the process of LEGO® SERIOUS PLAY® methods and want to sample the training, please sign up here. Note: We are only offering 4 tickets for this event as it's the first day to the longer full certification (so don't procrastinate and miss out).
This program has been designed to not only give you a taste of the tool but to provide you with some new methods and materials to add to your toolkit. It's not just something fun, it actually works well with adults of all ages, within all demographics, and across all cultures. It's a powerful tool ready for you to implement. If you are searching for a new approach to help your clients express themselves in a creative, kinesthetic, auditory, and visual way, this training will fit your needs.
You will leave this workshop with:
1. Your own set of special LEGO® bricks to run your first mini session with 6 people
2. Handouts and printed materials
3. A basic understanding of the methodology designed by the LEGO® Systems Group in Denmark along with the underpinning of the methodology and the fame works and theory behind it all
4. Ready to go activities that you can use anywhere within your existing approach
5. A document showing your participation hours to be used toward full certificate training with Strategic Play Group Ltd. So if you come for additional training later, this course credits will be completed.