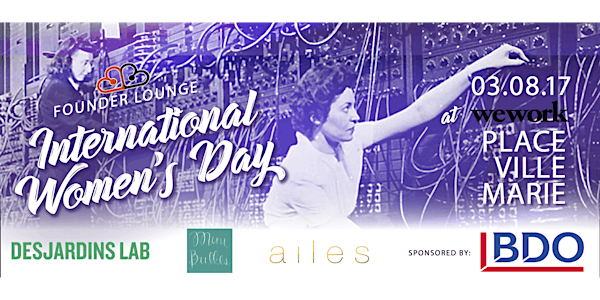 L'entrepreneuriat au feminin: Soirée Founder Lounge #WomenInTech
When and where
Date and time
Wed, Mar 8, 2017 5:30 PM - 8:30 PM SST
Location
WeWork Place Ville Marie 3 Place Ville Marie Montréal, Quebec Canada
Description
A l'occasion de la Journée internationale des femmes le 8 mars, nous vous proposons une soirée exceptionnelle. L'événement Founder Lounge #WomenInTech vous plongera dans l'univers de femmes qui brillent dans le numérique. Toutes sont innovantes et inspirantes et viendront partager leurs expériences de leaders dans les NewTech et échanger avec vous à propos de leurs prochains enjeux.
Nous allons avoir la chance d'avoir une discussion franche et transparente avec des entrepreneures chevronnées! N'hésitez pas à vous armer de questions pour nos invitées de marque, les soirées Founder Lounge se veulent uniques dans ce sens: on ne les enregistre justement pas pour pouvoir avoir des discussions franches et approdondies, où les entrepreneures parlent en toute transparence de leurs bons coups, echecs et apprentissages sans tabou!
Pour cette édition spéciale, nous allons tout d'abord avoir une discussion intime d'une quarantaine de minutes avec Christine Renaud, fondatrice de E-180 ; avant d'échanger avec nos panelistes invités sur un panel en trois temps avec:
- Christine Renaud, fondatrice de E-180
- Delphine Guyot-Giler, fondatrice de Stardust Testing

- Cassie Rheaume, fondatrice de Ladies Learning Code Montreal
- Pamela Shasha, fondatrice de Ask-Pam
- Soodeh Farokhi, fondatrice de C2RO

- Vanessa Labelle, responsable de l'équité des genres et du leadership au féminin, Mouvement Desjardins
Il s'agit d'une initiative commune portée par plusieurs acteurs montréalais : MTL NewTech, Desjardins Lab, a i l e s, Minibulles l'infolettre de Montréal et WeWork.
---
Founder Lounge is a new series of events by MTL NewTech launched in 2015 with the help of Ben Syne, founder of DogSync where we invite founders and co-founders to join us for drinks and share their stories. This is your opportunity to get inside their mind and ask any questions you have (nothing under the belt though ;)
For International Women's Day Edition, we are excited to welcome Christine Renaud from E-180 as our regular guest. Then follow with a Panel discussion on #WomenInTech featuring:
- Christine Renaud, fondatrice de E-180
- Delphine Guyot-Giler, fondatrice de Stardust Testing

- Cassie Rheaume, fondatrice de Ladies Learning Code Montreal
- Pamela Shasha, fondatrice de Ask-Pam
- Soodeh Farokhi, fondatrice de C2RO

- Vanessa Labelle, responsable de l'équité des genres et du leadership au féminin, Mouvement Desjardins
So, don't miss this unique opportunity to learn, share and dive deeper into the life of our guests (startup life huh...not The Kardashians here! :)
Please note that as the name suggests, we will have a drink with the founders, cut the "sales sales sales" b.s, and have a frank and transparent conversation with them. To make this happen, we will try to keep the event cozy by limiting the setting, so please get your ticket asap, or see you next time.
Don't miss the opportunity to really connect with and learn from successful entrepreneurs. It's going to be another great evening together!
See you on March 8th!
// Co-organisatrices
a i l e s est un cercle de femmes d'ambition qui prône l'ascension professionnelle au féminin. Depuis maintenant 4 ans, les a i l e s se réunissent pour échanger et recevoir les secrets d'invitées spéciales. Visitez ailes.co pour joindre le cercle!
Minibulles.ca l'infolettre de Montréal, (#SecretMtl) est une infolettre d'idées insolites et de bons plans, envoyée chaque semaine à toute la communauté montréalaise.
Desjardins LAB est le centre d'innovation de Desjardins qui vise d'une part à inculquer une culture de collaboration et d'innovation au sein du Mouvement Desjardins et dans l'écosystème québecois. Et d'autre part, prototyper et valider les idées et projets interne, ainsi que collaborer avec certaines startups afin d'intégrer leurs innovations et les conseiller pour les aider à créer des produits et relations d'affaires soutenables.
// Schedule
5:30pm Doors open. Meet fellow entrepreneurs, cofounders and talents
6.15pm Fireside chat with Christine Renaud
6.55pm #WomenInTech Panel
7.45pm Networking
// Guests
Christine Renaud is a social entrepreneur and E-180's CEO. Before founding E-180, Christine graduated from the Harvard Graduate School of Education as a Knox Fellow, focusing on informal learning, and worked was a Podcast producer for New York-based Learning Matters. Christine was recognized by BizBash in 2015 as one of the Most Innovative People in the Event Industry as well as Startup Canada Female Entrepreneur of the Year (Quebec) in 2016. She is a contributing author to the book Knowmads Society and has shared her work with E-180 as a speaker in conferences such as Tech Open Air (Berlin), C2 Montreal, SxSW 2013/2014 and #140edu in New York. She is the co-founder of the Montreal chapter of Technovation Challenge, an international competition that supports young girls in developing a mobile app that will transform their community. She considers herself a triathlete, even though frankly, she can't run for her life.
Delphine Guyot-Giler a co-fondé StarDust il y a six ans en France. Trois ans plus tard, elle a créé la filiale montréalaise. Stardust traque pour ses clients les bogues sur toutes leurs plateformes digitales (site internet, appli, infolettre ou tout objet connecté). La compagnie, en forte croissance, emploie aujourd'hui 70 personnes dans le monde, dont une vingtaine à Montréal, et compte parmi ses clients Loto Québec, Danone, l'Oréal ou Rona....
More to come.
// Event Partner
A huge thanks to BDO who is supporting this Founder Lounge and the invited (co)founders!
// Hosting Partner
WeWork offre à son réseau international de créateurs l'espace de travail, la communauté, et les services dont ils ont besoin afin qu'ils s'épanouissent non seulement dans leur travail, mais aussi dans leur vie. Cliquez ici pour visiter nos espaces dès maintenant!"

=============
Want to apply to present your startup? http://go.mtlnewtech.com/demo
Want to stay updated on what's going on in Montreal startups? Join our mailing list: http://go.mtlnewtech.com/mailchimp - previous examples: http://eepurl.com/bRzR2j
Want to know all the events happening in Montreal? Add this calendar in your phone: http://go.mtlnewtech.com/events
Want to join the conversation? Join us on facebook: http://go.mtlnewtech.com/group or https://www.linkedin.com/groups/164811
About the organizer
Montreal NewTech
Serving the Montreal innovation ecosystem since 2008, the MTLNewTech community is propelling technological innovation and startups through various meetups, startup demonstration evenings, conferences, hackathons, workshops, career fairs, and much more. Always open for collaboration within and beyond its borders, MTL NewTech believes in generosity, humility and transparency and always striving for Excellence & Elegance. Reach out if you share these values and want to have meaningful impact together.
More on its values and mission at: https://medium.com/@mtlnewtech/montreal-newtech-2018-in-review-e8d0999c897a
In addition to the startup demos, we also aim to educate and bring successful entrepreneurs to the community through keynotes or panels. Of course, the event is an incredible opportunity to meet potential co-founders for your next startup, or find valuable talent.
Thanks to key partners such as SDEVM, or EY, we are able to offer working sessions and mentorship to startups to ensure they benefit from preparation for demonstrations and pitches, making NewTech a key event in a startup launch. 
We prioritize working with groups within the Montreal Startup community, including MTL + eCommerce, MTLGirlGeeks, HackingHealth, Notman House, Startup Grind Montréal, Francogénie, Montreal Tech Watch, International Startup Festival with a focus on facilitating greater integration between groups and within the rest of Montréal. MTL NewTech is inclusive and community oriented, creating or supporting many well-known initiatives such as the #hackmtl hackathons, the MTLStartupTalent job fairs, the Montreal Startup Guide, WeAreMTLTech, the Montreal + Startups facebook group and many other leading initiatives.
- See more at: http://mtlnewtech.com/about