Les Jeux Du Peuple 2015 | The 2015 People's Games

Saturday, 4 July 2015 at 8:00 AM

-

Sunday, 5 July 2015 at 9:00 PM (EDT)
Event Details
4 & 5 juillet 2015.
Les Jeux Du Peuple est un festival de jeux, musique, et arts au profit de la fondation F.C.E.R.O: Viens jouez pour les enfants qui ne peuvent pas. (www.osteopathie-canada.ca/page/fondation)

SVP notez que l'evenement est 18 ans +
Sommaire: Les participants forment une équipe de 4 - equipe mixte - (obligatoire) et participent à 14 épreuves qualificatives au cours de 2 jours. Nous recomandons fortement aux participants de camper sur le terrain des Jeux du Peuple pour profiter amplement de la musique, des arts et de la culture.
La thème et code vestimentaire est  « Amateur de Sport. » Idéalement, chaque équipe doit avoir un trait commun et être visuellement agencée: couleur, emblème, drapeau, etc. 
Veuillez noter que il y a plusieurs type de billets disponible à l'achat. Nous ne sommes pas responsable si vous acheter le mauvais type de billets par accident et aucun remboursement ne sera permis. 
Le lieu et les dates sont sujet à des changements à la discretion des organisateurs du festival.
INFO: info@thepeoplesgames.ca
July 4th & 5th 2015. 
The People's Games is a Games, Music, and Arts Festival to benefit the F.C.E.R.O. Foundation: Come play for the kids who can't. (www.osteopathie-canada.ca/en/page/foundation)
Please note that this event is 18 years +
Summary: Games participants create teams of 4 - mixed gender - (mandatory) and compete in 14 qualifying events over the course of 2 days. Participants are urged to camp out on The People's Games grounds in order to be fully submersed in the music, and arts culture. 
The 2015 theme and attire is "Sports Fan". Teams are urged to be visually synchronized through their uniforms, props, flags, logos, and any other fun accessories. 
Please note that that there are multiple ticket types available for purchase. We are not responsible should you accidentally choose the wrong ticket tier and no refunds will be permitted.
Location & dates subject to change at the descretion of the festival organizer's. 
INFO: info@thepeoplesgames.ca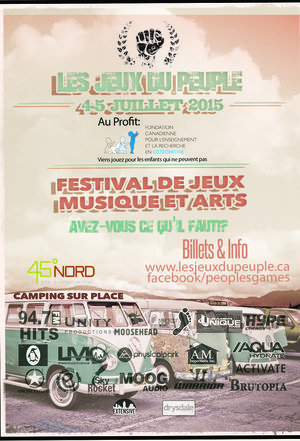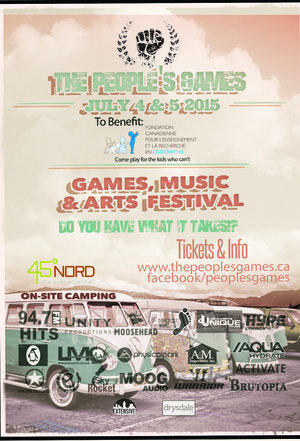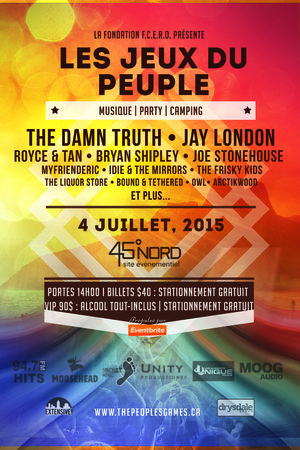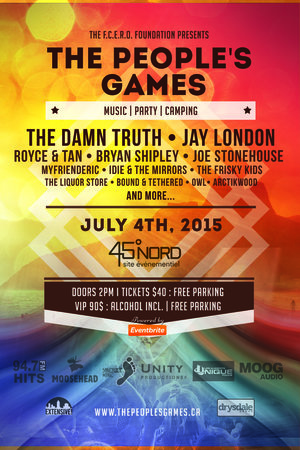 TRAILER:
When & Where

45 Degres Nord
50, rue du Lieutenant Ingall
Saint-Calixte, Quebec J0K 1Z0
Canada

Saturday, 4 July 2015 at 8:00 AM

-

Sunday, 5 July 2015 at 9:00 PM (EDT)
Add to my calendar
Organizer
www.thepeoplesgames.ca
info@thepeoplesgames.ca
514 880 0834