Description
*** ENGLISH BELOW ***
La Fondation OSMO et MTL Newtech lancent la première édition du gala des prix de la communauté de startups de Montréal. Nous célébrerons tous ceux qui contribuent au développement de l'écosystème montréalais de startups, les personnes, les lieux et les organisations qui, le plus souvent, travaillent sans reconnaissance. Il est temps de les reconnaître et de célébrer tout le travail qu'ils ont accompli au cours de la dernière année.

Joignez-vous à nous le 22 novembre à partir de 17h30 pour le gala de la remise des Prix de la Communauté Startup à la Maison Notman! Consommation et hors d'oeuvres inclus dans le prix du billet.
PopupCamp sera présent à Prix de la Communauté de Startup, gracieuseté d' Element AI! C'est une "halte garderie" mise spécialement à disposition pour vos enfants!
Alors rappelez votre ami qui ne pouvait pas venir à cause des enfants... Puis venez fêter le succès des entreprises d'ici en famille, à Maison Notman House! Enfants 1-12 ans bienvenus! Places limitées.
Gratuit, mais inscriptions obligatoires: go.notman.org/popupcamp
www.startupcommunityawards.com

La liste des finalies qui vont être avec nous ce soir que vous pouvez aussi retrouver sur le site web: www.startupcommunityawards.com/finalistes.html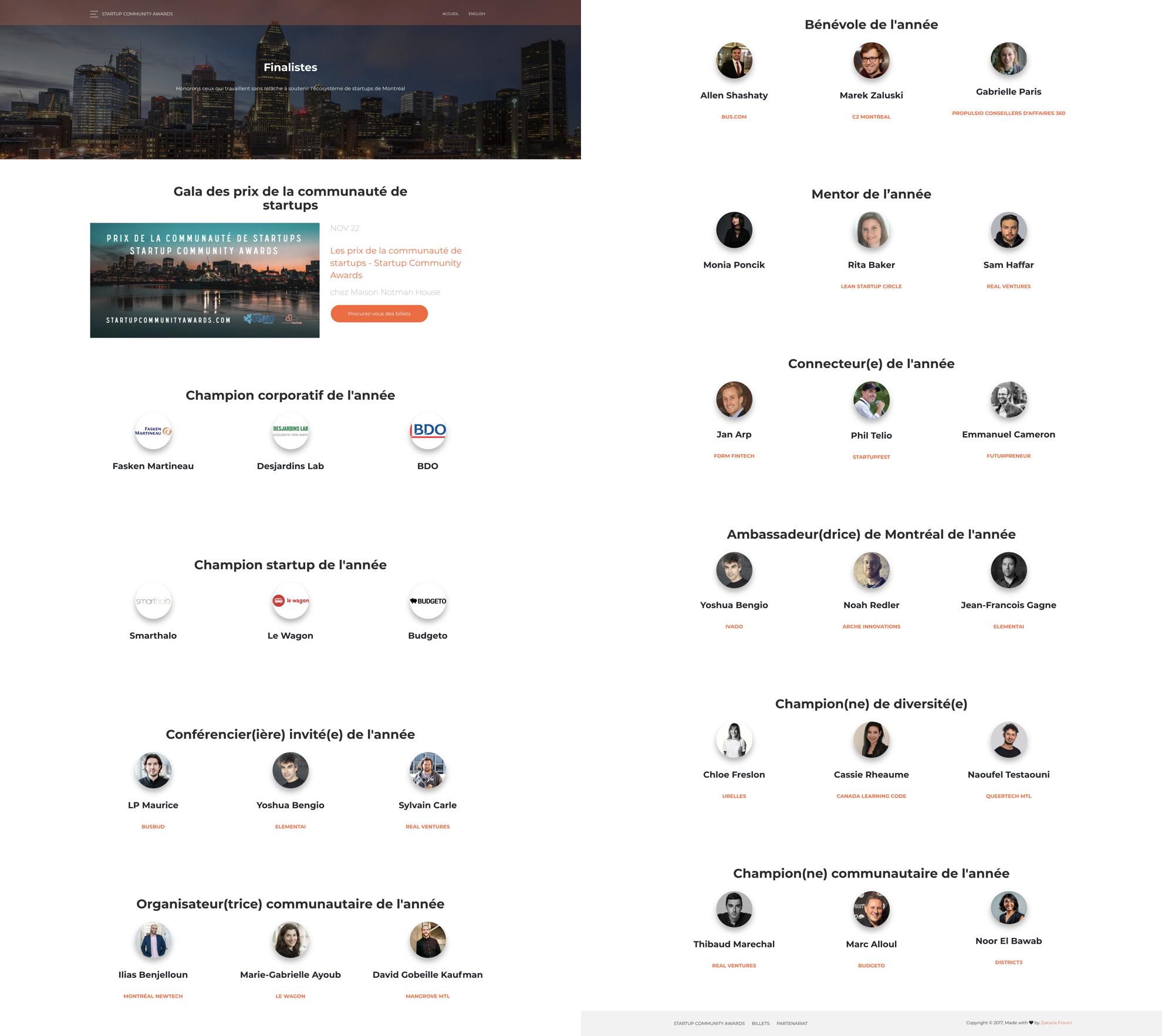 The OSMO Foundation and MTL NewTech are launching the first edition of the Montreal Startup Community Awards. Our goal is to celebrate all those who are contributing to the development of the Montreal startup ecosystem. We will be recognizing the people, the places and the organizations that are working tirelessly, often without recognition. It's time to celebrate them and all the work that they have done over the past year.
Join us on November 22nd as we hand out the awards and celebrate our community! Drinks and bites included in ticket price.
PopupCamp's onsite childcare will also be at the gala courtesy of Element AI! Now you can bring your kids.
Come and party with the whole family at Maison Notman House!
Children ages 1-12 are welcome.
Free, but reservations are mandatory: go.notman.org/popupcamp
www.startupcommunityawards.com