About this Event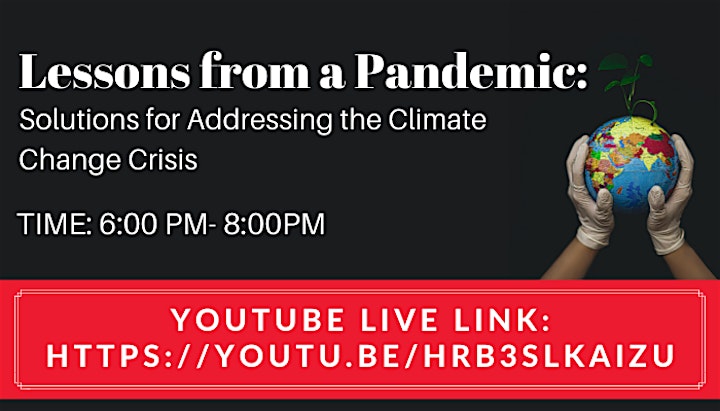 The current COVID-19 pandemic has been referred to by some as the "time lapse of the climate crisis" and has highlighted the importance of heeding the warnings and recommendations of scientists and experts to make informed policy decisions in order to stave off the most dire consequences. Climate change affects the global population, but unlike the novel virus which is unfolding in "real time", climate change is taking place in "deep time", a multi-generational time frame.
Over the last couple of decades there has been rapid progress towards technological solutions, which can move our societies towards sustainable manufacturing, infrastructure and renewable energy, thus mitigating climate change. Yet to date, progress on implementing these have been slow. A rich body of evidence and understanding of how climate change is negatively impacting our environment and well-being has been developed. Yet actions on adaptation and mitigation to avert disastrous outcomes are sporadic and fragmented.
Given the framework of the current unprecedented situation, the 7th Annual Trottier Symposium on Sustainable Engineering, Energy and Design will focus on laying a road map to addressing the climate change crisis while keeping the following questions in mind:
What are the most promising, important, equitable and viable solutions to climate change? Which are most likely to face the biggest opposition from the public and/or special interest groups?
How can scientists and engineers communicate their work to the general public as well as policymakers to help accelerate the implementation of technological and operational solutions that mitigate the effects of climate change and support future sustainable development?
Are there lessons learned from the current COVID-19 pandemic and society's response, which can be applied to accelerating action on the climate emergency?
How can today's scientific and engineering community get a wider cross section of the public to trust science messengers and engage in meaningful climate action?