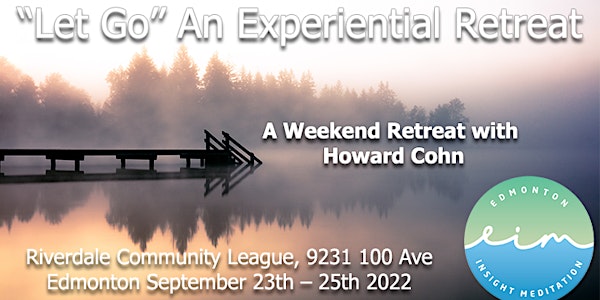 "Let Go" Weekend Retreat with Howard Cohn Sept 23-25 2022
"Let Go" An experiential weekend retreat with Howard Cohn (Non residential)
When and where
Location
Riverdale Community League 9231 100 Avenue Northwest Edmonton, AB T5H 0A4 Canada
Refund Policy
Contact the organizer to request a refund.
Eventbrite's fee is nonrefundable.
About this event
The last few years have taught us that holding on to the way things were and what we would like to happen is futile and causes us to feel excess stress. The antidote for this obvious cause of suffering is to let go. In fact, In the teachings of the Buddha, letting go is the key to happiness and well-being. There is however much confusion about what it means to let go. During this retreat, sitting and walking together in silence, moment to moment we will explore and practice letting go, realizing moment to moment freedom through non-clinging.
Vipassana Meditation (Insight or Mindfulness practice) is a simple and direct practice -- the moment-to-moment investigation of the mind / body process through calm and focused awareness. The practice originates in the Theravada tradition of the teachings of the Buddha. Learning to observe experience from a place of stillness enables one to relate to life with less fear and clinging. Seeing life as a constantly changing process,... one begins to accept pleasure, pain, fear, joy, and all aspects of life with increasing equanimity and balance. As insight deepens, wisdom and compassion arise. This nonresidential retreat is suitable for beginning and experienced meditators.
Everyone is looking for a place of safety and rest in the midst of an uncertain, often chaotic and confusing life. The Buddha's teaching and practices remind us that we can rediscover a sense of well being within our own nature , a way of living in harmony with life and a welcoming community of support. Let's fulfill and celebrate our highest aspirations in a safe and silent weekend meditation retreat. There will be opportunities to speak about your meditation experiences along with systematic meditation instructions that follow the map of the Four Foundations of Mindfulness. Lovingkindness Meditation will also be offered. The retreat is suitable for new and experienced meditators.
ADDITIONAL INFORMATION
Dates and times
Friday September 23rd 7:00 to 9:00 pm 
Saturday September 24th 9:00 am to 4:30 pm
Sunday September 25 9:00 am to 4:00 pm 
During this, largely silent weekend retreat, periods of sitting and walking meditation will alternate with dharma talks and meditation instruction that follow the Four Foundations of Mindfulness. There will be opportunities to share your meditation experiences. Lovingkindness Meditation will also be offered. The retreat is suitable for new and experienced meditators. Retreatants will have opportunities to ask questions and participate in small group discussions. This retreat is suitable for new and experienced meditators.
About the teachers
Howard Cohn is a founding teacher of Spirit Rock Meditation Center in the San Francisco Bay area. He has guided a local sitting group in San Francisco, been in private practice as a psychotherapist, and led Vipassana retreats worldwide since 1985. He incorporates the influences of Theravada, Zen, Tibetan Dzogchen, and Advaita Vedanta in his teaching, with an emphasis onreawakening our intrinsic freedom. Among his many teachers and mentors are Jack Kornfield, Joseph Goldstein, U Pandita Sayadaw, Tulku Urgyen Rimpoche, Tsoknyi Rimpoche, and the Advaita Vedanta Master H.W.L. Poonja.
 Registration 
Registration for the general public opens on July 1st and closes at the end of September 18th 2022.
Cost: Dana (Generosity by Donation).
Donations for organization range, our cost per person is over $100 / person when we factor in catered meals, hall rental, teacher costs & accommodations, and other administrative expenses. We allow participants to offer a selfless gift and contribute to the next retreat for us to continue to share the practice freely. Some may be able to offer more, and some less.
Dana: Dana translates into generosity. From the days of the Buddha, the teachings have been considered priceless and thus offered freely. Today, teacher support continues to come from students' voluntary contributions (dana).
There will be two opportunities for you to share the precious teaching of Generosity or Dana. We will have a donation for the organization of the event and a donation for the teacher.
Dana for the organization. The donation to Edmonton Insight Meditation Society (EIM)will help us cover hall rental, sound equipment, lunches, travel & accommodation costs for the teacher as well as other incidental costs. Voluntary donations can be shared at the time of registration or at the retreat through cash or cheque (made out to Edmonton Insight Meditation).
Dana for teachers: The teacher, Howard Cohn, is not paid to lead the retreat. He shares this practice from his own generosity and kindness. The Donation or Dana to the teacher will go directly to supporting the life that Howard has chosen in living from the sharing of the dharma and spirit of generosity practitioners like yourself share. Voluntary donations (dana) for the teachings may be given at the retreat.
Transportation
If you are driving to the retreat, please consider carpooling for the sake of the planet and to avoid straining parking facilities at the centre, which are free but limited. Weather permitting, consider walking or cycling to the retreat.
Food options
We will be providing a vegan (gluten-free) lunch catered by Padmanadi on Saturday and Sunday. If you have severe food allergies or sensitivities, please bring your own food. You can store it in the fridge in one of the main floor kitchenettes and have your meal in designated eating areas.
More details
Registration packages with more details, including what to bring, will be sent out closer to the retreat.  If you would like more information about anything, you are also welcome to contact the retreat manager at edmontoninsight@gmail.com.