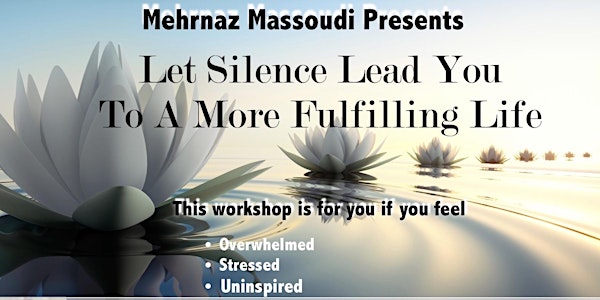 Let Silence Lead You To A More Fulfilling Life
When and where
Location
Starlit Yoga 100 Nanaimo Avenue East Penticton, BC V2A 1M4 Canada
Description
It is estimated that the average person has 70,000 thoughts per day. Studies have shown that on average 80% of these thoughts are negative; that equals to 56,000 negative thoughts every day!!
The negative thoughts have been downloaded in your subconscious mind by unpleasant and traumatic life events.
It is known that meditation and living mindfully in the NOW are the most powerful tools to reprogram your subconscious mind so it stops playing the negative thoughts repeatedly, but not many people succeed to meditate daily, even though most people have tried it.
The easiest part of the meditation is setting up an altar and buying a Buddha statue. LOL
"Discover inner space by creating gaps in the stream of thinking. Without those gaps, your thinking becomes repetitive, uninspired, devoid of any creative spark, which is how it still is for most people on the planet." — A New Earth by Eckhart Tolle
Join Mehrnaz at Let Silence To Lead You To A More Fulfilling Life on October 16 to learn how to create silence in the steam of your thoughts, and how to let the silence guide you to your dreams and destiny.