Description
Please join us in celebration of a new book by Dr. B. Brett Finlay and Dr. Marie-Claire Arrieta. Let Them Eat Dirt: Saving Your Child From an Oversantized World reveals how hyper-cleanliness is taking a toll on children's lifelong health and explains how parents can improve their children's exposure to beneficial microbes. Click here to learn more about the book from the publisher, Greystone Books.

Featuring a book reading and lively discussion, this free event will include a family-style dinner, cash bar, and music by the Straight Jackets. Book copies will be available for purchase.

This event is free and open to the public, but registration is required. Registration closes at 9:00 am on September 21, 2016.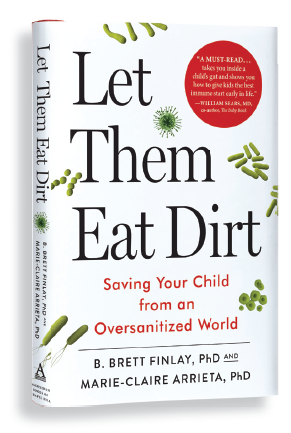 B. Brett Finlay, PhD, is the Peter Wall Distinguished Professor at the University of British Columbia and a world leader on the workings of bacterial infections. He has studied microbes for more than thirty years and has published more than 450 scientific articles. A cofounder of the biotech companies Inimex, Vedanta, and Microbiome Insights, Brett is Officer of the Order of Canada— the highest Canadian civilian recognition. He lives in Vancouver, BC, with his wife, who is a pediatrician, and has two grown children.
Marie-Claire Arrieta, PhD, who will start her own lab in September 2016, is a postdoctoral scientist in B. Brett Finlay's lab, where her recent study connecting asthma in very young babies to missing key intestinal bacterial species was deemed a breakthrough in the field and was reported by news outlets around the world in 2015. Arrieta has been published in leading scientific journals such as Gastroenterology, PNAS, and Science Translational Medicine. She spends her busy days juggling between experiments, science writing, and play dates for her two young children.