Teen empowerment weekly program with horses to help with stress, self-esteem, emotions and more.
About this event
The "Let Your Light Shine" program for teens (ages 13 – 17) is a program for youth who would like to gain valuable skills to help with things such as feelings, stress, self-esteem, and relationships.
As we move through the herd, you will be paired with a horse who suits your energy and needs. Whether you are reserved and unsure, outgoing and excited or somewhere in between, you will find an equine partner here. You will embark on your own journey of mental health and well-being through this empowering and unique approach to personal development.
Let Your Light Shine is open to everyone and is a fun, interactive way to learn about important topics in the presence of horses. This program helps participants to see that other youth go through similar struggles and it gives them strategies and tools to cope with everyday stressors. This program is also a great way for youth to develop new friendships with other young people.
Join us and walk your own path… flourish… find your passion and a place to belong.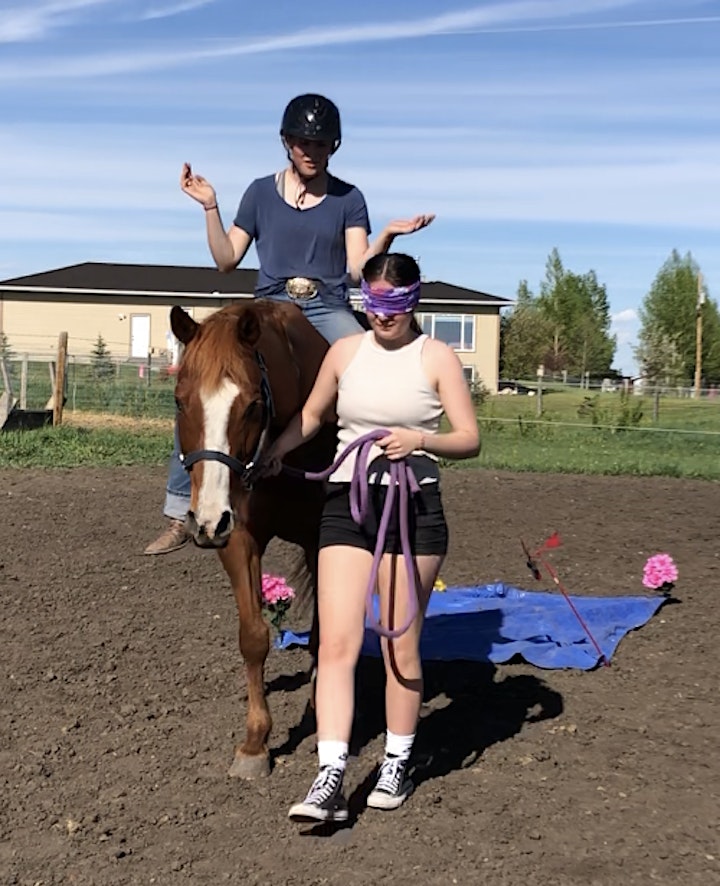 In a small group setting, we engage in activities such as mindfulness and breathing exercises, learning to connect energetically with the horse, setting boundaries, finding your leadership voice, handling the horse, and equine-assisted activities for fun, stress relief and learning.
After an introduction with the herd, you are paired with a horse who is suited to your energy and needs. In this small group, you will share a one-to-one connection with your horse. All activities are done on the ground or walking alongside the horse. There is no riding.
Group Teens (13 – 17 years)
Cost $200 + gst for 4 sessions (+ ticket fee)
Duration 4 sessions, 1.5 hours each
Dates Mondays 4:30 – 6:00 pm
Next group starts August 9th
Location Legacy Ranch (10 min from Langdon, 15 min east of Calgary)
For youth who are not currently struggling, these tools may be helpful in the future to limit the negative impact of stress, or to help a friend in need.
Teens and youth must be able to participate in the workshop mentally and physically and be able to function in a group.
Anyone can find out about the program including youth, parents, guardians, teachers, friends or community members.
Organizer of Let Your Light Shine- Teen Equine Assisted Personal Development