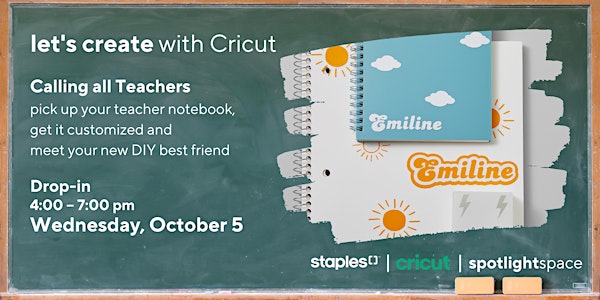 Let's Create with Cricut
Meet your new DIY best friend
About this event
Calling all Teachers!!
On Oct 5th we celebrate the valuable contributions of teachers and educators globally. Join us at your local Staples to pick up your teacher notebook!
As an added bonus get your notebook customized for FREE with our Cricut Crew at select Staples locations.
Have you been wondering what the Cricut can do?
Our Cricut experts will be demonstrating the Cricut Joy and can answer all your questions that you may have about this smart-cutting machine.
Find inspiration on some great back to school projects to personalize and organize school supplies for your little students.
Cricut Crew will be on site at the following select locations from 4 pm to 7 pm to customize your notebook:
Richmond Hill - 45 Red Maple Road - Richmond Hill, ON
Pembina Hwy. - 1910 Pembina Highway Unit - Winnipeg, MB
Orleans - 2085 Tenth Line Rd.
Calg-South - Bay #3 321 - 61st Avenue SW
Circle 8 - 2327 Eighth Street East
Bridgeport - Unit #110 2780 Sweden Way
Dartmouth Crossing - 70 Gale Terrace
Cobourg - 1025 Elgin Street West
Oakville - 320 North Service Road West
Centre Laval - 1600 boulevard Le Corbusier bureau 99
Website: https://www.youtube.com/c/OfficialCricut
Facebook: https://www.facebook.com/cricutca
Instagram: https://www.instagram.com/cricut_ca/
WIN a Cricut Prize pack!
Join us to WIN a Cricut Prize pack. All registered participants will be entered into the draw. Contest closes Oct 5 at 11:59 pm.
Draw will take place on Friday Oct 6. Winner will be announced via email.
Gagnez un pack de prix Cricut !
Rejoignez-nous pour GAGNER un pack de prix Cricut. Tous les participants inscrits seront inscrits au tirage au sort. Le concours se termine le 5 octobre à 23h59.
Le tirage au sort aura lieu le vendredi 6 octobre. Le gagnant sera annoncé par e-mail.

Join Staples Canada's Teacher Discount Program Membership
The Teacher Membership Program provides discounts on classroom supplies, school tools, and more!
https://www.staples.ca/a/content/teachermembership
Adhérez au programme d'adhésion des enseignants de Bureau en Gros Canada
Le programme d'adhésion des enseignants offre des rabais sur les fournitures de classe, les outils scolaires et plus encore !
Appel à tous les enseignants !
Le 5 octobre, nous célébrons les précieuses contributions des enseignants et des éducateurs du monde entier. Rejoignez-nous à votre Staples local pour récupérer votre cahier d'enseignant !
En prime, vous pourrez personnaliser votre cahier GRATUITEMENT avec notre Cricut Crew dans certains magasins Staples.
Vous vous demandez ce que peut faire le Cricut ?
Nos experts Cricut feront une démonstration du Cricut Joy et pourront répondre à toutes vos questions sur cette machine à découper intelligente.
Trouvez l'inspiration pour de superbes projets de rentrée des classes afin de personnaliser et d'organiser les fournitures scolaires de vos petits élèves.
L'équipe Cricut sera sur place dans les lieux sélectionnés suivants, de 16 h à 19 h, pour personnaliser votre cahier :
Richmond Hill - 45 Red Maple Road - Richmond Hill, ON
Pembina Hwy. - 1910 Pembina Highway Unit - Winnipeg, MB
Orleans - 2085 Tenth Line Rd.
Calg-South - Bay #3 321 - 61st Avenue SW
Circle 8 - 2327 Eighth Street East
Bridgeport - Unit #110 2780 Sweden Way
Dartmouth Crossing - 70 Gale Terrace
Cobourg - 1025 Elgin Street West
Oakville - 320 North Service Road West
Centre Laval - 1600 boulevard Le Corbusier bureau 99
Site Web: https://www.youtube.com/c/OfficialCricut
Facebook: https://www.facebook.com/cricutca
Instagram: https://www.instagram.com/cricut_ca/