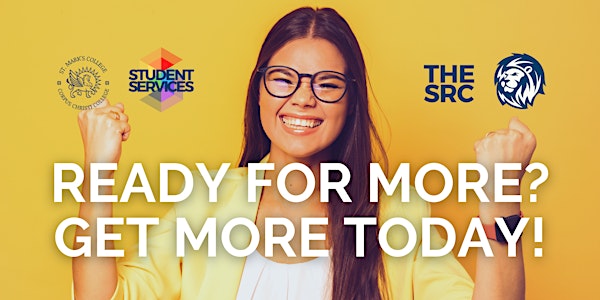 Let's Get Ready for College (Again)! [for Returning Students]
College Preparedness Inventory (CPI) with the SRC
About this event
This is not a "test" to pass/fail, but a free consultation to help you prepare for your next term with us at Corpus Christi College + St. Mark's College.
Important Information about your College Preparedness Inventory:
The Student Resource Centre (SRC) will confirm your appointment within 48 hours after we have received your event registration.
Once we have confirmed your appointment, you will receive further instructions from the SRC regarding your College Preparedness Inventory (CPI) at the appointed consultation time.
Once you have completed your CPI with the SRC , you will receive your official CPI Completion Certificate, which will also be cc'd to our Student Services Records for further College Preparedness Coaching, whenever requested and booked.
Important Reminders regarding Rescheduling/Cancellation:
If you need to reschedule or cancel the appointment, please submit your request via email to resources@corpuschristi.ca at least 48 hours before the appointed consultation time.
If you have any questions or updates, please contact resources@corpuschristi.ca.