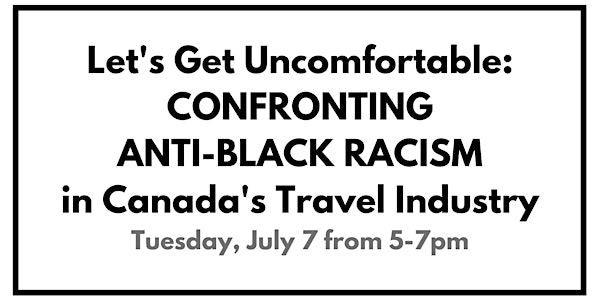 Let's Get Uncomfortable: Confronting Anti-Black Racism in Travel & Tourism
Join your fellow travel professionals for a panel discussion about anti-Blackness in the industry and the anti-racist actions we can take
About this event
Travel and tourism take us around the globe and into every country, meeting people of every background. And yet, our industry is far from being a racial equalizer.
Let's Get Uncomfortable, the event series pushing for change in the travel industry through honest conversations, is back with an event on confronting anti-Black racism and workplace inequities in our sector. Join us on Tuesday, July 7 from 5-7 p.m. ET / 2-4 p.m. PT, for an online panel discussion with perspectives from travel professionals and travellers. We will address anti-racist action that attendees can implement within their work and organizations.
The panel will be moderated by LGU organizer, Shalene Dudley, founder of Latitude Concierge. Shalene will be joined by Maxine Gundermann, market sales manager, Eastern Ontario at Celebrity Cruises; Margie Jordan, owner of Jordan Executive Travel Service; Kier Matthews, director of sales at Classic Vacations; and Tolu Aladejebi, founder of Black in Hospitality.
Ticket prices are on a sliding scale, with three options to choose from:
Free, for those in a restrictive financial position
$15, for those who are able to contribute to compensating the panelists
$50, for those looking to make a more substantial contribution
The event will take place on Zoom, with the link invitation sent out to attendees 24 hours prior.
We look forward to having you join us!
-- The LGU team