Sales Have Ended
Ticket sales have ended
Thank you for choosing Jump Into Music Outside as your Fall music class! I am thrilled we are able to get together this way! I am really excited to bring our musical fun to Garden Park! I lived beside this park when my children were your kids' ages and it is a wonderful place to play anytime of year. Look for my Jump Into Music sign and me! If you are having trouble finding me..give me a call @604-767-2733 If you know someone who you think would enjoy these classes, please invite them to check out the website, Facebook Page and/or pass on the registration links. Unfortunately this term we cannot have any drop-ins. See you in the park! Monica Lee
Sales Have Ended
Ticket sales have ended
Thank you for choosing Jump Into Music Outside as your Fall music class! I am thrilled we are able to get together this way! I am really excited to bring our musical fun to Garden Park! I lived beside this park when my children were your kids' ages and it is a wonderful place to play anytime of year. Look for my Jump Into Music sign and me! If you are having trouble finding me..give me a call @604-767-2733 If you know someone who you think would enjoy these classes, please invite them to check out the website, Facebook Page and/or pass on the registration links. Unfortunately this term we cannot have any drop-ins. See you in the park! Monica Lee
Wednesdays 12pm Outdoor Class: Come jam along as Teacher Monica plays her Ukulele, special instruments and hosts guest puppets in the park!
About this event
Let's Jump Into Music Outside!
Updated: 5 remaining weeks of classes at Garden Park
Come jam along as Teacher Monica plays her Ukulele, special instruments and hosts guest puppets like Mama Robin and the Three Little Birds while learning about music from around the world! Grab your instruments, your favourite stuffy and a peek-a-boo scarf and let's get together and Jump into Music!
Our classes inspire creativity and build confidence in little ones 6 months to 4 years old. Children under 6 months are free. As we are outside, we can welcome the whole family to participate in the musical fun! Ensure your seating area can contain your family bubble.
At Jump Into Music in the park, we will enjoy to the same high-quality music and movement curriculum loved by hundreds of families around Vancouver and on Vancouver Island. We have adapted our program to meet the changing needs of our community by adding outdoor classes. Join us in the park for some musical fun!
Jump Into Music Outside is focused on the play of playing music. During each music class, Teacher Monica will lead music activities for the whole family to sing, play, and jam along to using your jam instruments in including everyday items like scarves, homemade instruments, and of course your favourite stuffy! Bring your blanket and your instruments to the park and let's sing and dance and smile together!
Fall Jump Into Music Outdoor program includes:
• 10 weeks of 45 minute live, interactive outdoor park class with Teacher Monica in April/May/June (Maximum 8 families)
• Optional add-on to bring a second child, or third child. Must be a family member for this discount. If you are a caregiver to multiple children, they must each be registered.
• Digital copies of our lesson plans including background information on all the artists and songs we learn in class.
• Audio clips of all the songs sung in class.
Please note - Classes will be moved online with Zoom if weather forecast is calling for heavy rain. We will still meet if it's sprinkling. Dress for the weather and feel free to bring a lawn chair/umbrella, whatever you need to be comfortable. Decision will be posted on our website home page each morning by 8:30am and a Zoom link will be sent out at the beginning of the term just in case. (In the 7 months we have had outdoor classes, we have only had a few Zoom days!! It is very rare we cannot meet.)
Class Safety Guidelines
What to bring from home:
• maracas – homemade or any kind of shakers, one for each hand = 4 (we lead by example and the joy of copying can create incredible moments together)
• jam instruments for you and your child
• Two peek-a-boo scarves – see through ones are the best! Different patterns are wonderful so we can point out the interesting shapes and colours on each person's scarf. Every moment is a learning opportunity. Square scarves are preferred but bring whatever you have.
• Yoga mats and/or blanket/lawn chairs to sit on – creating an autonomous area per family so we can all stay compact in our bubbles. A designated spot will be marked for each family before class.
Redirection:
• If children wander off, quickly redirect them back to your blanket. Scoop them up in your arms, dance on your blanket or walk away from the circle at any time. Please follow your child if they leave your blanket and sing and dance with them from a distance if needed. We will carry on without notice. You can rejoin the circle anytime.
Social Distance Measures:
• We will keep a safe 6 foot distance between each family.
• Wearing a mask is a choice for adult participants outdoors. We will be maintaining the needed distance so you can be mask free inside your space. Note: The teacher will not be wearing a mask while teaching in order to connect with the children. They will maintain a safe distance away from all participants throughout the class. Please resist the urge to come into each other's space at the start of the class. Some families may be in bubbles together. If so we will communicate this at the start of class.
• Please do not huddle around the teacher or visit within the 6 foot distance at the start or end of the class.
Best practices for a safe class experience:
• Do not walk into the 6 foot perimeter of another family.
• Wear your mask if you would feel safer wearing it. Masks are welcome.
• Do not let children interact with other children without the express permission of the other family. At the start of class we will communicate regarding those present who have established shared boundaries.
• Do not share your instruments with other participants.
• Keep your area contained. Do not leave items lying around that other participant children may try to pick up (phones, water bottles, toys etc)
Don't be shy about singing and dancing. Let share our joy through music – we're in this together! : )
Weather permitting we will be outside. Let's sing, dance, and smile, together a safe distance apart!! Come ready for the weather: sun, sprinkles, cooler temperatures. We will move to a Zoom class only for very wet days. Classes will run at the same times.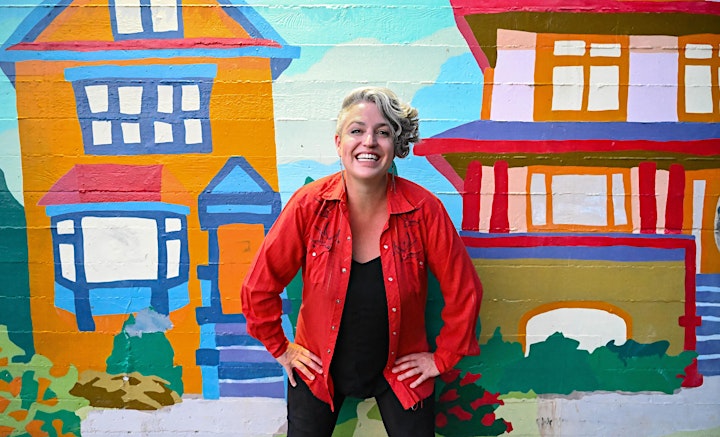 Organizer of Let's Jump Into Music Outside! @ Garden Park 12pm