Description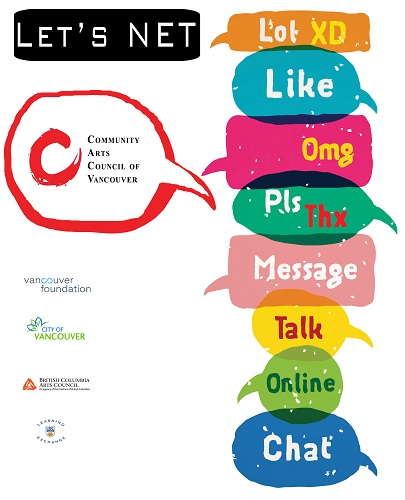 Let's Net! Social Media Workshop and Networking
Monday, December 17 > 10am-12pm
UBC Learning Exchange, 612 Main Street
Facilitator: Mary Bennett

This interactive workshop is for staff or social media volunteers working with Downtown Eastside groups involved with community arts. Join our Administrator and social media whiz Mary Bennett to meet other individuals and groups involved in community arts in the neighbourhood.

A limited number of laptop computers will be available to use during the session. You can either bring your own, borrow one or just observe and enjoy. Please arrive by 9:45am if you want to use a borrowed laptop.

Workshop Schedule:

- Feel free to bring brochures and information about your community arts activities.
- Introductions/ Brainstorming: how can we help each other. We'll do some posts right there and then, and make some notes about what to do over the coming month till we meet again.
- Wrap-up/evaluation/next steps
---------------------------------------------------------------------
A big "Thank You" to UBC Learning Exchange for providing space, computers and support for this workshop.
We offer a monthly series of 2-hour workshops for folks involved with community arts.
Sign up for our e-newsletter at http://cacv.ca/newsletters to be sure to get details as they're finalized.
Thank you to City of Vancouver Great Beginnings, Vancouver Foundation and the Province of British Columbia for funding for our Downtown Eastside Community Arts Program.