Let's Taco-Bout Plant-Based Diets - A Cook Off Party
About this event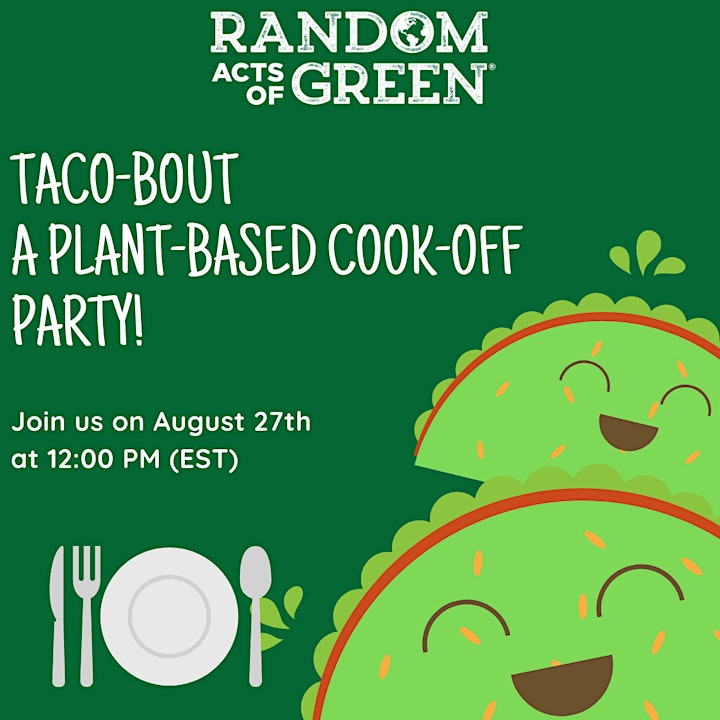 ***Guests are asked to bring with them a plant-based recipe / meal idea to share with other attendants!****
"I won't be able to eat anything!"
"I'm scared I won't get the right nutrients"
"I think plant-based foods are gross."
These are some common objections to switching to a vegetarian or vegan diet.
We want to help bust these myths. Whether you're interested in becoming a Flexitarian, participating in Meatless Mondays, or you want to cut out meat and dairy entirely, but don't know where to start, this Plant-Based Cook-Off event is for you!
We'll be featuring some of our esteemed business members, including Wholly Veggie, La Dee Da Gourmet Sauces, Sorry I've Got Plants, and The Very Good Butchers to discuss plant-based eating to give you a "Taste" of what it's like to eat a plant-based diet.
They will share recipes and food ideas for you and share some unique delicious foods you might never have known about. They will also answer questions about plant-based eating and will have the opportunity to share some great ways to get started on your journey.
Get ready to taco-bout plant-based foods, learn new recipes, and help ease your worries about transitioning toward a new diet.
This event is open to the community and all are welcome to join!
Connect with Random Acts of Green!
Facebook.com/randomactsofgreen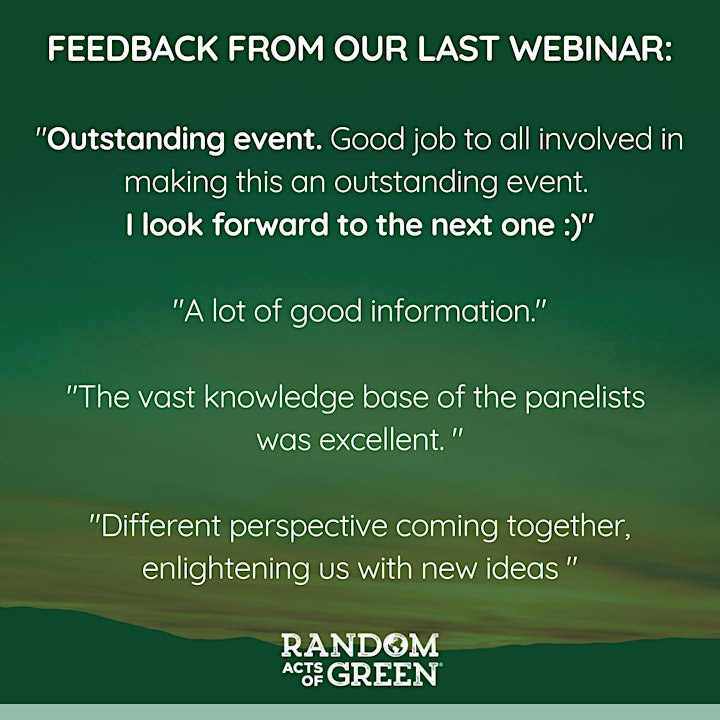 Here is feedback from our last session:
"Enjoyed the webinar very much."
"Kudos! It was a well organized and informative event."
"You are doing what needs to be done to make Sustainable impacts every day!"
"I thought that the meditation at the beginning was a creative and well planned way to enter the meeting. Overall, the meeting was very well conducted and professional."
"It felt like a great way to begin doing what I hope will be more of these sorts of things, so thanks Random Acts of Green for being kind and accommodating. Also very much appreciated how well you stayed on time."
"The conversation was amazing. I hope you are able to distribute it to a wider audience as I think there was a lot of value there."
A short clip from our last session with Toni Desrosiers, CEO of Abeego.