Already worried about 2022? Tired of the endless 'New Year, New You' messaging? Let's discuss new year's pressure and anxiety together!
About this event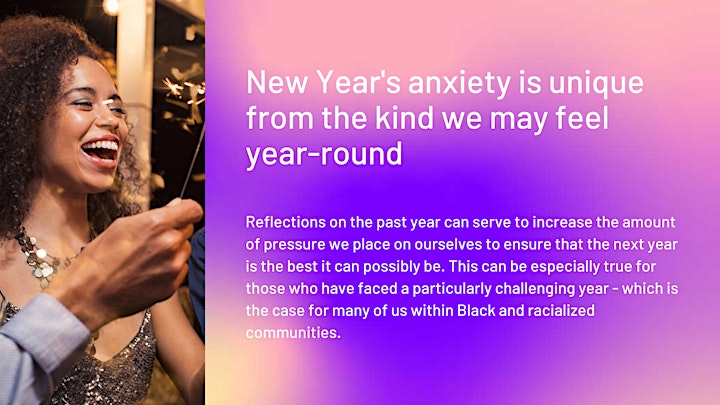 2020 and 2021 have been rough – this is especially true for Black and racialized communities who have faced particularly gruelling challenges during the last two years. Due to this, many individuals within these communities may be going into 2022 feeling apathetic and despondent and may be experiencing anxiety.
As the holiday season creates a lot of anxiety in people, it's even worse when considering the New Year's pressure and expectations society and culture put upon us. Creating and upholding unrealistic goals and intentions is easy at the beginning of the year, but what about the other 8 months in the year? Additionally, many of us may be reflecting on the past year with a profound sense of disappointment and a strong desire to make 2022 better.
We created this webinar was to address the pressures commonly felt during the New Year's holiday. We will be providing attendees with tools they can use to overcome their anxieties while also addressing the misguided narratives surrounding what a "perfect" new year is supposed to be.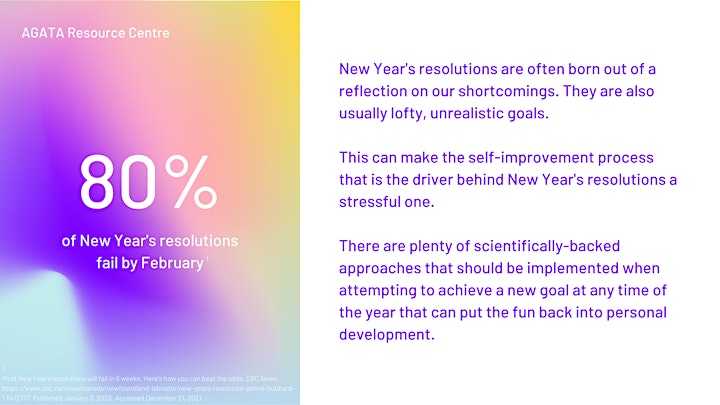 We will also be covering:
What anxiety is and why it can peak during the beginning of a new year
The psychology of resolutions
Avoiding burnout in the new year
Reframing expectations and getting comfortable with change
Mindful planning
At the end of the webinar, attendees will be provided with a resource toolkit containing tips, strategies, and guides that will be covered throughout the presentation.