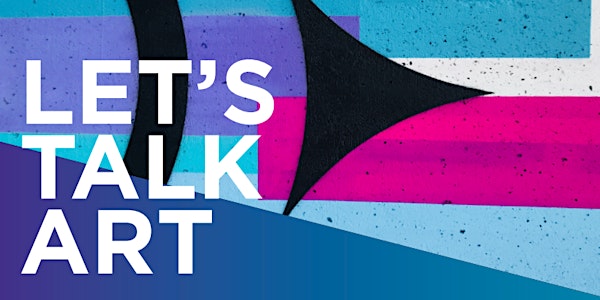 Let's Talk Art: Finding Community and Building a Nurturing Ecosystem
Get insights on how and why it is important to build a network or community to support and enhance your artistic practice
When and where
Location
OCAD University's RBC Centre for Emerging Artist and Designers 115 McCaul Street 3rd floor Toronto, ON M5T 1W1 Canada
About this event
During this panel, artists at different levels in their career will share how community support and having a network has helped them grow their artistic practice. Panellists will also share tips on how to build a community and/or network as well as their approach to building meaningful relationships.
PANEL MODERATOR
Marsya (pronounced Marsha) Maharani is an independent curator, researcher, and arts administrator based in Tkaronto. She works exclusively in collaboration with others - including as part of the collectives Younger than Beyonce (with Geneviève Wallen, Marjan Verstappen, Michael Magnussen) and Gendai (with Petrina Ng).
Marsya's projects explore experimentation in learning, working, and playing together to nourish diverse ways of thinking, specifically in relation to issues of equity and meaningful inclusion. Her recent and ongoing collaborative projects test models of collective knowledge-sharing, such as between art collectives seeking methodologies for sustainability (Gendai MA MBA: Mastering the Art of Misguided Business Administration, GUDSKUL: Knowledge Garden Festival); between emerging artists seeking collaboration instead of competition (Cyber Fellows residency with YTB, GUDSKUL, and Flux Factory), as well as between racialized cultural workers navigating predominantly white institutional spaces (Souped Up dinner series, with Geneviève Wallen, and Gendai CO-OP with Petrina Ng). Most recently, she has written for the anthology The Politics of Spatial Transgressions in the Arts (eds Gregory Blair & Noa Bronstein). Marsya is pursuing doctoral research at York University to explore practices of collective care and radical friendship as grounds for institutional structure, work culture, and labour practices. She is part of a residency with EMILIA-AMALIA feminist working group.
PANELISTS
Veronica Johnny is a multi-disciplinary Indigi-Queer artist, entrepreneur and educator of Cree/Dene/mixed heritage. She is a member of the Athabasca Chipewyan First Nation; was born and raised in Fort Smith, Northwest Territories and presently lives in Northern Ontario.
Veronica is a dynamic force in the entertainment and cultural sectors in Canada - working as a performer, writer, arts educator, workshop facilitator, visual artist, producer, manager, promoter, filmmaker and cultural knowledge keeper.
Veronica facilitates virtual and in-person workshops; and land-based events, art-focussed events and healing events creating safe spaces where individuals can do their healing, through her 100% Indigenous-owned business called IndigenEd. IndigenEd focuses on creating understanding between Indgenous and non-Indigenous people.
She is an emerging storyteller in both video and written forms. She is currently writing a documentary and just completed The Business of Film at Weengushk Film Institute. IndigenEd now also focuses on lifting female Indigenous voices & stories through music, film & workshops.
Veronica also founded The Johnnys, a multi-award nominated rock'n'roll band, with partner Dave Johnny. The Johnnys released their 4th album, Leathers and Feathers in June 2020. She's the rhythm guitarist, lead singer and band manager.
Amanda Lederle (they/them) (they/them) is a neurodiverse, queer, Chinese-Canadian based in Toronto. Their mental health journey has influenced their drive to destigmatize mental illness and support creative expression. Amanda's artistic practices include their vibrant paintings of footwear and black and white ink drawings series, Emotional Maps, through which they explore self-expression and human connection. Amanda's work has been shown in group exhibitions, publications and has been invited to lead workshops and artist talks. They created their first mural with STEPS Initiative's CreateSpace Public Art Residency and is featured at the ArtGallery of Ontario as one Workman Arts' artists taking up themes of mental health awareness and advocacy in galleries and museums. You can also see Amanda as Art With Impact's Movies for Mental Health facilitator, an Active Listener at film festivals and workshops, and on mental health committees for the Centre of Addiction and Mental Health (CAMH) and University of Victoria. Currently, Amanda is collaborating with On Culture Days and TAC's Artist in the Library to provide workshops in October. See more of Amanda's work on Instagram @amandalederle
Philip Leonard Ocampo (b.1995) is an artist and arts facilitator based in Tkaronto, Canada. Ocampo's multidisciplinary practice involves painting, sculpture, writing and curatorial projects. Exploring world building, radical hope and speculative futures, Ocampo's work embodies a curious cross between magic wonder and the nostalgic imaginary. Following the tangents, histories and canons of popular culture, Ocampo is interested in how unearthing cultural zeitgeists of past / current times may therefore serve as catalysts for broader conversations about lived experiences; personal, collective, diasporic, etc.
He holds a BFA in Integrated Media (DPXA) from OCAD University (2018) and is currently a Programming Coordinator at Xpace Cultural Centre and one of the four founding co-directors of Hearth, an artist-run collective based in the city.
------
This Let's Talk Art panel is presented in partnership with OCAD University's RBC Centre for Emerging Artists & Designers (CEAD) and IndiGenEd -Indigenouse Education.
The CEAD is a designated masking area. We ask that all guests remain masked throughout the event. For more info about OCAD U's masking policy: https://www.ocadu.ca/services/health-and-wellness/covid-19
Email ines@torontoarts.org if you have accommodation requests and we will do our best to support you.
---------
Neighbourhood Arts Network is a strategic initiative of Toronto Arts Foundation. We offer accessible arts programming, awards, and exciting partnership opportunities to Toronto-based artists, arts educators and arts organizations. For more information on Neighbourhood Arts Network programming, visit our website at neighbourhoodartsnetwork.org.
OCAD University's RBC Centre for Emerging Artists & Designers (CEAD) supports the early career advancement of all OCAD U students and recent alumni through career development, experiential learning and creative entrepreneurship programs and services. We connect individuals to meaningful opportunities, communities of practitioners, skill-building resources and facilitated learning experiences. For more information visit https://ocadu.ca/cead
IndigenED lifts Indigenous women's voices and stories through music, film and workshops. For more information visit https://www.indigened.ca/